Poorly Cooked Karambwan
Release
14 June 2011 (Update)
Members
Yes
Examine
He looks ill.
Combat info
Level
LP
XP
XP
1
50
24.9
8.2
Equipment XP (2H/MH & Armour/OH)
1 / 0 / 0
Aggressive
Poisonous
Slayer
Level
XP
Category
1
? (edit)
Trolls
Assigned by
Offensive
Max hit
4
0
0
0
Style
Speed

4 ticks (2.4s)

Combat levels
Defensive
Armour
Weakness
110
1
Affinities
90
50
30
65
Immunities
? (edit)
? (edit)
? (edit)
[FAQ] • [doc]
Poorly Cooked Karambwan is one of the Trolls fought during the combat portion of Troll Invasion. If you are adjacent to it when it "coughs" (about once every 3 seconds), your combat stats (Attack, Strength, Defence, Ranged, Magic) will be drained by 2 levels (which can be restored from the Supply Table). It will not retaliate unless attacked. Therefore, eliminating the rest of the trolls and keeping your distance from Poorly Cooked Karambwan before dealing with Poorly Cooked Karambwan is ideal, however, it tends to walk down the path leading up to the Death Plateau, where trolls will start throwing a barrage of rocks that cannot be blocked by a protection prayer. Attack him from a distance to lure him out or wait for him to wander back out.Ranged attacks are recommended against this troll for safer attacks.
The troll is named such because trolls are named by their mothers after the first thing they attempt to eat. This troll has probably eaten a poison karambwan, which is why he is poisonous.
100% drops
Edit
| | Item | Quantity | Rarity | GE price |
| --- | --- | --- | --- | --- |
| | Big bones | 1 | Always | 193 |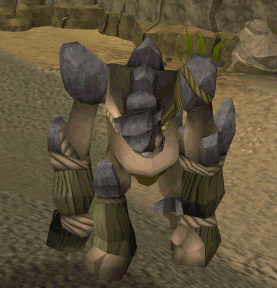 Mountain trolls
Ice trolls
Aquatic trolls
Troll bosses
NPC trolls
Ad blocker interference detected!
Wikia is a free-to-use site that makes money from advertising. We have a modified experience for viewers using ad blockers

Wikia is not accessible if you've made further modifications. Remove the custom ad blocker rule(s) and the page will load as expected.