This article is about the polls that Jagex conducts on the
RuneScape
website. For the in-game polling system, see
Player Power
.

Polls are a feature released by Jagex on the RuneScape website about topics on RuneScape. These polls are conducted by Poll Orks, and the results are announced a week or two after its release. In the past, polls were generally for members-only, aside from one non-members poll. Jagex was pretty excited, but many members complained about it. However, upon Mark Gerhard's promotion to CEO of Jagex, most polls have instead been open to everybody. On 22 April 2010 Jagex announced that from then on, all polls will be open to both members and free-to-play, with a weekly prize draw - one month of RuneScape membership to a lucky participant.
Types of polls
Edit
Player-submitted polls
Edit
Player-submitted polls are based on questions submitted to Jagex through an email address set up for polls in specific: polls@jagex.com[1]. Usually, the question is accompanied by the name of player who submitted it.
Player-submitted polls starting appearing circa 2007, and are conducted once every month.
Guaranteed Content polls
Edit
Guaranteed Content polls were introduced on
31 May
2007
. These polls are conducted to obtain feedback on improvements within the
RuneScape
game. As the name suggests, the winning answers from the polls are guaranteed to be included into the game.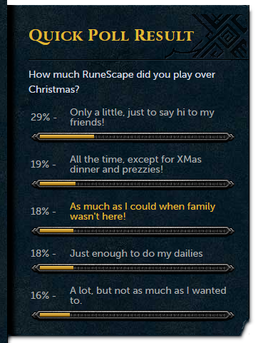 Other polls
Edit
In addition to the two polls mentioned above, there are other polls which do not fall into any category. These polls do not have any impact on the game, and are conducted by Jagex for research purposes.
Removal of polls
Edit
With the recent update to the website, the listing of polls and the polls archive have been removed. The only poll that remains is feature poll on the main page. All poll links in past news articles with links to previous polls are now broken. Jagex has yet to comment on whether polls and past results to polls will return.
Player Power
Edit
Player Power is an in-game polling system introduced to RuneScape in mid-January 2014 to give players the ability to choose the content and updates being added into the RuneScape game. All polls are open to members, and some future polls may be available to free players. Seven polls are run every month, with the exception of January 2014 with six polls.[2]
RuneLabs is a suggestion system where players submit ideas to be added to the game, to be voted up by other players. Jagex gives an idea of the sort of content they are looking for every month, and then they review the ideas that are relevant. For more info, click the link above.
Strawpolls
Edit
Occasionally, during livestreamed events such as Developer Q&A's, JMods will use the free quick poll website, Strawpoll, in order to gauge interest in a thought or idea.
External links
Edit
References
Edit
Ad blocker interference detected!
Wikia is a free-to-use site that makes money from advertising. We have a modified experience for viewers using ad blockers

Wikia is not accessible if you've made further modifications. Remove the custom ad blocker rule(s) and the page will load as expected.