This article is about the condition that affects players and monsters. For the item needed for the Ernest the Chicken quest, see
Poison (item)
.

Poison
is a detriment that players and monsters may suffer when they are attacked by a poisoned weapon. Also, the
Smoke spells
from the
Ancient Magicks
may poison targets.
Many
non-player characters
are also able to poison. The damage can range from 3 to theoretically over 10,000 (
Har'Lakk the Riftsplitter
's accumulating poison), and it strikes every 10 seconds. Poison can be cured by an
Antipoison
, which is handy to have with you when fighting poisonous monsters.
When a player or monster is poisoned, a number appears with a green splat (
) instead of a red one, indicating the amount of damage the poison has dealt to their life points (for example, a player who suffers 68 poison damage will lose 68 life points ). Poison always hit for five times for the same damage before it ends.
Some monsters, such as tribesmen, Kalphites, or K'ril Tsutsaroth must inflict damage in order to poison a player (Prayers such as the Protect from Melee cannot negate this, and even if they hit zeros due to the prayer's effect, you are still poisoned). Others, such as Cave Slimes and Saradomin wizards, as well as other players, may inflict poison even if they hit a zero (unless the player is protected by an antipoison potion).
It is also interesting to note that being afflicted by poison does not disrupt skilling, but players cannot rest if they are poisoned.
Players will not take damage from poison during cutscenes, but their health still regenerates normally.
Tripwires in Tirannwn no longer cause poison damage.
The trap on the Sinister chest causes 27 poison damage.
Weapon Poisoning
Edit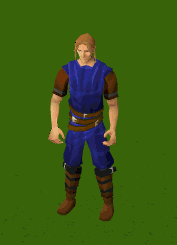 Weapon poison is made through the herblore skill. There are several types of weapon poison which can progressively deal more damage, depending on the strength of said poison. It should be noted that after the Evolution of Combat update, any weapon may be poisoned, although for a limited duration.
Curing poison
Edit
Poison can be cured through antidotes. Anti-poison potions are the most popular antidote and they come in various levels which provide progressively longer immunity to poisoning. All regular poisons can be cured by regular antipoison, even that inflicted upon players by K'ril Tsutsaroth, which hits 160 to start. Some antidotes provide immunity for a temporary period of time, in which you cannot be poisoned.
Another free alternative if you are really low on health is to teleport to your respawn location. This way when you die you can instantly obtain your items again. This is not advised in the Wilderness, as you cannot get a gravestone there, and your items will be immediately visible to others. If you were attacked and damaged by a player killer, they will get your items instead, even if they only caused one life point of damage. In addition, untradeable items will be replaced either by tradeable versions of them or coins.
Another safe alternative is to teleport to your Player-Owned House, so when you die, you will not lose items and instead, be teleported outside of your house. A faster method involving the Player Owned House to cure poison is to simply leave the house by using the teleportation methods available in the house (e.g. mounted amulet of glory, the Portal Chamber or simply leaving your house through the Exit Portal). This will cure your poison completely.