The Plutonial chinchompa is a very big chinchompa discovered by Nyriki which plays a role in the Big Chinchompa Distraction and Diversion. In the D&D you will need to catch Soporith moths and then feed them to the chinchompa in order to get it to sleep. Doing so will earn you competence points which you can spend on various reward at the reward shop from Nyriki or Mieliki Tapio (the second being located in the Tree Gnome Stronghold). Rewards include quota tickets that you can spend on catching some hunter species in private hunter areas, several ingredients and Hunter experience.
You can start the D&D by either going by hunter spots around Gielinor to find Nyriki and enter the cave the chinchompa resides in or by going to Mieliki's place in the Tree Gnome Stronghold and using the orange portal that is located there as well to teleport straight to Nyriki.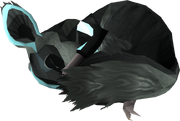 Ad blocker interference detected!
Wikia is a free-to-use site that makes money from advertising. We have a modified experience for viewers using ad blockers

Wikia is not accessible if you've made further modifications. Remove the custom ad blocker rule(s) and the page will load as expected.