This article is about the machine. For the NPC, see
Plank maker
.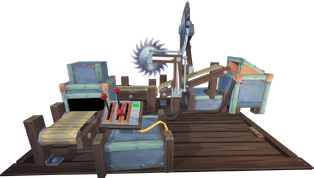 The plank maker is a machine that can be built in the Invention Guild basement at level 99 Invention. It automatically converts logs into planks, even while the player is offline. The plank maker does not incur the normal coin cost for converting logs to planks.
Every hour, on the hour, the plank maker will process up to 13 items deposited in it, consuming up to 225 machine charge. Building it requires 30 of the power allotment supplied by the generator. It can hold up to 2,500 items over the three input slots. Researching the plank maker blueprint awards 153,526 Invention experience.
Once the plank make has processed some logs, the resulting planks may be withdrawn via the machine management interface.
At level 117 Invention, the plank maker can be upgraded to the high capacity plank maker.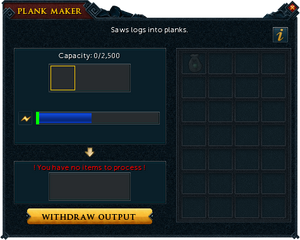 Plank maker (machine)
-
3,100 XP
-
-
Requirements
Invention level
99
Discover: Plank maker
Power required: 30
Members only
Yes
Materials
Item
Quantity
Price
Total
Saw
10
1,032
10,320
Direct components
10
N/A
-
Simple parts
150
N/A
-
Crafted parts
150
N/A
-
The plank maker processes 13 items per hour at a cost of 225 machine charge. Thus, each item costs 17.3 machine charge to process - an equivalent of 358.9 coins per item.
The plank maker processes 312 items per day at a cost of 5,400 machine charge (approximately 1.8 divine charges). When completely filled, it will take 8 days 1 hour to process the 2,500 input items, using 43,425 machine charges (approximately 14.5 divine charges).
Log
(Value)
Plank
(Value)
Profit via
machine
Daily profit
Weekly profit
Profit via
sawmill
Profit via
portable/cape
 Logs
(

325

)
 Plank
(

515

)

-168.94

-52,710.6

-368,974.2

90

100

 Oak logs
(

122

)
 Oak plank
(

483

)

2.06

641.4

4,489.8

111

136

 Teak logs
(

209

)
 Teak plank
(

736

)

168.06

52,433.4

367,033.8

27

77

 Mahogany logs
(

703

)
 Mahogany plank
(

1,401

)

339.06

105,785.4

740,497.8

-802

-652