Pit black demon
Release
5 July 2010 (Update)
Members
Yes
Examine
A big, scary, jet-black demon.
Combat info
Level
LP
XP
XP
84
3,000
269.4
88.9
Equipment XP (2H/MH & Armour/OH)
16 / 10 / 5
Aggressive
Poisonous
Offensive
Max hit
360
0
0
0
Style
Speed

6 ticks (3.6s)

Combat levels
Defensive
Armour
Weakness
1132
? (edit)
Affinities
90
55
45
65
Immunities
? (edit)
? (edit)
? (edit)
[FAQ] • [doc]

The pit black demon features in the Wise Old Man's player-owned house during the quest Love Story. Zenevivia redecorated the house adding a dungeon full of traps, as well as many pit creatures to guard the dungeon.
After the quest, black demons may be "built" in your player-owned house with 89 construction and 300,000 coins. Despite dropping Infernal ashes in the Wise Old Man's house, it does not drop anything when in a player-owned house.
When challenge mode is off, the pit black demon uses its old graphics. When it is on, it uses the current Black demon model instead. This may be a glitch.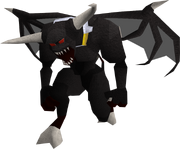 Ad blocker interference detected!
Wikia is a free-to-use site that makes money from advertising. We have a modified experience for viewers using ad blockers

Wikia is not accessible if you've made further modifications. Remove the custom ad blocker rule(s) and the page will load as expected.