Piscatoris Hunter area
Discuss

0
22,528pages
on this wiki
The Piscatoris Hunter area was one of 3 completely new areas released along with the Hunter skill in December of 2006. It is used as a main Hunter area for levels 3-69+.
It can be found south of Piscatoris Fishing Colony, west of Tree Gnome Stronghold and just north of the Eagle's Peak. Besides walking, player can get there by using Fairy ring AKQ, the Eagle transport system, using the Phoenix lair teleport or the teleport ability of the Spirit kyatt familiar. After completion of Deadliest Catch, the player gains access to a deposit chest just south of the Falconry.
Several types of hunting can be done here: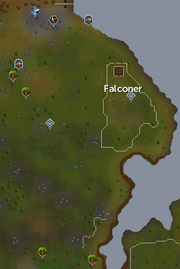 Hunter Outfit
Edit
Wood camouflage gear - top and legs are made from common kebbit fur or Larupia hunter gear for levels 28 and higher.
Hunter Creatures
Edit
Tracking (Levels 3+)
Edit
There are two creatures to track here:
Bird Snaring (Levels 9+)
Edit
There is one creature to snare here:
Butterfly Netting (Levels 15+)
Edit
There is only one creature to net here, but implings are known to appear.
Deadfall Trapping (Levels 23+)
Edit
There are two creatures to trap with a deadfall here:
Box Trapping (Levels 27+)
Edit
There are two creatures to trap with a box here. (Players must complete the Eagle's Peak quest in order to unlock the ability to trap ferrets, which are used to snare rabbits.)
Rabbit Snaring (Levels 27+)
Edit
Main article: Rabbit Snaring
The Piscatoris Woodland is the only place in RuneScape to snare rabbits (after completing Eagle's Peak).
Falconry (Levels 43+)
Edit
Main articles: Falconry, Falconer (area)
This Hunter area is also the only area in RuneScape in which players can use gyr falcons to catch kebbits. Falconry is one of the quickest Hunter training methods for players with level 43+ Hunter (at level 57+, you can expect to receive 50K XP per hour), third only to box trapping carnivorous chinchompas at very high Hunter levels (75-80+) and Jadinko's (level 80+). Trapping red salamanders is also about as fast as falconry from levels 60-70.