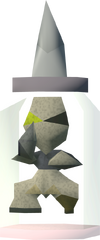 The Pirate impling jar is the result of successfully catching a pirate impling, while also having an empty impling jar. Hunter level of 76 and completion of the Rocking Out quest is required to catch them.
If a player catches an impling without an empty impling jar, they receive the loot instead.
This jar can be traded in singularly to Elnock Inquisitor for 3 empty impling jars, but this is not recommended due to its high value.
If a player attempts to cast analyse or disassemble on this item, they get the message You monster! You can't disassemble a living thing.
In Puro-Puro and RuneScape
Edit
Caught inside Trouble Brewing minigame
Edit
Ad blocker interference detected!
Wikia is a free-to-use site that makes money from advertising. We have a modified experience for viewers using ad blockers

Wikia is not accessible if you've made further modifications. Remove the custom ad blocker rule(s) and the page will load as expected.