Pirate's Treasure/Quick guide
Discuss

0
22,529pages
on this wiki
This is the quick guide for the quest Pirate's Treasure; for the more in-depth version click here.
Walkthrough
Edit
Start point:
The northmost dock at Port Sarim, just south of the Pub.
Member requirement:
Official difficulty:
Novice
Length:
Medium (10-30 minutes)
Requirements:
Items required:
Items from the toolbelt do not need to be listed unless that version won't work, or aren't automatically added to it.


Karamja rum (Obtained during quest for 30 coins)
White apron (Obtainable during quest)
60 coins or Ring of charos(a) (To cover two 30 coin trips to and from Karamja)
Spade (Obtainable during quest)

Enemies to defeat:
Optional kills:

Gardener lvl 4
Getting Started
Edit
The Smuggling Job
Edit
Do NOT leave the island yet or more rum will have to be obtained.
Go East to the house by the pier.
Talk to Luthas about the Customs officer and then ask for a job.
Obtain ten Bananas from the trees to the west.
On the right side of Luthas' house will be a wooden crate.
Use the rum on the crate then fill the crate with bananas.
Talk to Luthas.
Talk to the Customs officer and go back to Port Sarim.
Retrieving the Rum
Edit
Go West to Gerrant's Fishy Business.
Take the White apron from the wall.
Equip the apron and go to Wydin's Food Store to the South.
Try to open the door in the back.
Ask to work for Wydin.
Open the door and search the crate with the banana on it.
With the rum, go back to Redbeard Frank.
Treasure Hunting
Edit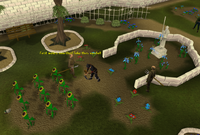 Go the Blue Moon Inn at Varrock.
Go upstairs and use the key on a chest in the southwest corner.
Get a spade from anywhere. (One is available in the top floor of the Varrock general store. Free for those in need).
Go to Falador Park and stand in the patch of bare dirt west of the statue of Saradomin.
Dig with the spade.
Quest complete!