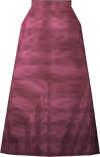 The pink skirt is one of the several skirts available to both free players and members. It is sold by Thessalia who runs her shop, Thessalia's Fine Clothes, in Varrock. The skirt provides no combat bonuses. This item was used in the quest Prince Ali Rescue as part of the disguise for Prince Ali to impersonate Lady Keli to escape from the prison, however, the quest was removed at 26 September 2012.
In the early days of RuneScape, and in RuneScape Classic, players who were caught botting mining would have their pickaxe turned into a pink skirt, making them unable to mine and so players could be amused by the bot malfunctioning.
Combat Stats
Requirements
None
Class
Slot
None
Tier
None
Weapons
Main
Off
Damage
-
-
Accuracy
-
-
Style
-
Range
-
Attributes
Damage reduction
Armour
0
PvM:

0%

PvP:

0%

Life points
0
Style bonuses
Prayer
0

0

0

0

[FAQ] • [doc]
Dropping monsters
Edit
For an exhaustive list of all known sources for this item, see here.
Store locations
Edit
This list was created dynamically. For help, see the FAQ.
To force an update of this list, click here.
Disassembly
Edit
The pink skirt was the only skirt purchasable from Thessalia's Fine Clothes to not receive combat bonuses and a name change with the Troll Warzone update on 31 January 2012.
Ad blocker interference detected!
Wikia is a free-to-use site that makes money from advertising. We have a modified experience for viewers using ad blockers

Wikia is not accessible if you've made further modifications. Remove the custom ad blocker rule(s) and the page will load as expected.