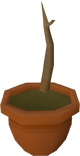 The pineapple sapling is obtained by planting a pineapple seed in a plant pot filled with dirt, then by using a watering can on the plant pot. A player must wait at least one crop cycle in order for a pineapple seedling to sprout into a sapling in the plant pot.
A player must have at least level 51 in Farming to be able to make this item.
Planting the sapling in a fruit tree patch will result in the chance of growing a pineapple tree in a player's fruit tree patch. Players can ask the gardener for assistance in watching over their pineapple tree for a payment of 10 watermelons.
They can be obtained by pickpocketing Crwys workers in Prifddinas.
Drop sources
Edit
This list was created dynamically. For help, see the FAQ.
To force an update of this list, click here.
For an exhaustive list of all known sources for this item, see here.
| Source | Combat level | Quantity | Rarity |
| --- | --- | --- | --- |
| Crwys worker | N/A | 1 | Very rare |
Disassembly
Edit