Pig Pits are locations containing pigs. They are unlocked after completion of Bringing Home the Bacon. 
In Bringing Home the Bacon, an adventurer assisted Eli Bacon in raising awareness of the usefulness of pigs. During this task, bacon addicts (crazed by Eli's discovery of the delectable meat) forced Eli to hide his pigs underground in a cellar. After successfully promoting the pigs, people came to Eli to buy breeding pigs, and seeing the pigs underground, figured that was the best way to raise them.
Locations 
Edit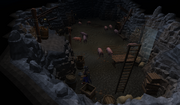 If a player attempts to enter a pig pit on a free-to-play server a message will appear stating "Something interesting happens. However, it is so small and insignificant that overall nothing interesting happens." This is a reference to the common game message "Nothing interesting happens."
The Lumbridge pit was removed with the release of the Battle of Lumbridge. It was later re-added, but has since disappeared.
NPCs
Items
Rewards
Locations
Music
Miscellaneous
Pig Pits
Asgarnia
Kandarin
Karamja
Kharidian Desert
Misthalin
Morytania
Fremennik Province
Feldip Hills
Wilderness
Troll Country & The North
Keldagrim
Tirannwn & Galarpos
Others
Pig Pits
Ad blocker interference detected!
Wikia is a free-to-use site that makes money from advertising. We have a modified experience for viewers using ad blockers

Wikia is not accessible if you've made further modifications. Remove the custom ad blocker rule(s) and the page will load as expected.