This article is about the picture puzzle encountered in the Rogues' Den. For other uses of picture, see
Picture (disambiguation)
.
A Picture was used by players in Rogues' Den. They were used to open the mosaic door, a puzzle that was within the maze. In the room containing the mosaic door, the four Pictures were on the ground. Only one of them would successfully open the door, while the others would trigger a trap and force you to restart the maze. Any tiles that were left in a players' inventory would be removed after exiting the maze via any means.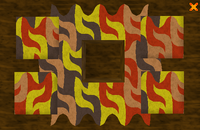 Ad blocker interference detected!
Wikia is a free-to-use site that makes money from advertising. We have a modified experience for viewers using ad blockers

Wikia is not accessible if you've made further modifications. Remove the custom ad blocker rule(s) and the page will load as expected.