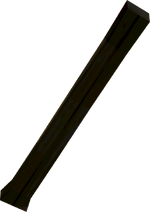 A pickaxe handle was the handle of a pickaxe and a discontinued item from the pickaxe random event.
Whilst players mined, the random event caused the head of their pickaxe to fly off. Players had to pick it up and attach it back onto the handle.
Similar to the random event which produced axe heads and axe handles, when a pickaxe head flew off, the handle still stayed equipped and, once removed, could not be re-quipped.
When they, along with the hatchet handles, were removed from the game, anyone who owned one was given a random event gift either in their inventory or bank, depending on where it was when the update occurred.