Pickaxes (often abbreviated as picks) are used to mine any type of ore in Gielinor. Pickaxes can be held in the inventory, stored in the tool belt, or wielded (provided the player's Attack level is high enough). Storing in the tool belt or wielding the pickaxe provides an extra inventory space, allowing one extra ore to be held. Pickaxes are rarely used as weapons, as they are significantly weaker and less accurate than weapons designed for combat such as swords.
After completion of the Perils of Ice Mountain quest, players can smith their own pickaxes, using 2 bars of the desired metal. The Dwarven army axe, sacred and volatile clay pickaxes, dragon pickaxes, inferno adze, Imcando pickaxe, and Crystal pickaxe cannot be smithed.
Types of pickaxes
Edit
Note that the Dwarven army axe and Inferno adze also function as hatchets.
Stealing Creation pickaxes
Edit
These pickaxes can only be obtained and used in the Stealing Creation minigame.
These can be used outside of the minigame.
Dungeoneering pickaxes
Edit
These pickaxes can only be obtained and used during Dungeoneering.
Maintenance
Edit
Previously, players needed to repair their pickaxe if it had been damaged during the exploding rock random event. Players had to visit Nurmof in the Dwarven Mine or Bob at the Lumbridge axe shop to repair it for a small cost. Players also used to find their Pickaxe head flying off their handle, which they then needed to pick up and rejoin to the handle. However, pickaxes no longer get damaged or lose their heads, due to the removal of random events.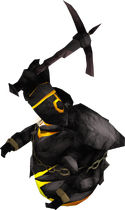 Ad blocker interference detected!
Wikia is a free-to-use site that makes money from advertising. We have a modified experience for viewers using ad blockers

Wikia is not accessible if you've made further modifications. Remove the custom ad blocker rule(s) and the page will load as expected.