Phoenix eggling
Discuss

34
22,451pages
on this wiki
The cute phoenix eggling and mean phoenix eggling are pets introduced with the In Pyre Need quest. To obtain either of them you must have completed the quest In Pyre Need and done the Phoenix Lair Distractions and Diversions. The phoenix pets do not have an adult form, and they eat ashes.
Obtaining an egg
Edit
When a player chooses the option to exit the cave, there is a slight possibility of getting lost. A cutscene will ensue, leading the player to a room full of phoenix eggs. The player will see that one of the eggs is shaking, and will be given the option to clap at the egg or kick it. To hatch a cute phoenix eggling you must choose the clap option. To hatch a mean phoenix eggling you must choose the kick option. You can have one of each type of pet phoenix.
Dialogue with Phoenix after finding eggling
Edit

The Phoenix will talk to you about egglings after you have found and hatched one. The chances of stumbling upon an egg while escaping the cave are unknown, although Jagex has confirmed it is significantly more than 1/1000 in a FAQ sticky on the official forums:
The phoenix said the chance of an egg becoming fertile was 1 in 1000. Is this the chance I have of getting the event?
No. The phoenix was referring to the chance of an egg becoming magically fertile, not your chance of finding one such egg within her lair. This phoenix has been around for a long time, and there are quite a few potentially fertile eggs. Your chance of getting the event is not 1 in 1000; it is significantly higher. To prevent further confusion, this line has been altered in the phoenix's chat. (However much higher than one in one thousand, it may well take years of doing this event every day before you get it.) The chance you have of actually getting the event is probably closer to 1%.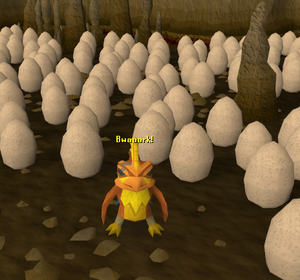 The mean hatchling's examine text is from the 1982 song, "Bad to the Bone."
If you try to drop the eggling while in the room with the Phoenix, it will say "I don't want to watch you fight mommy."
There used to be a bug you could abuse to obtain both egglings in one day, by repeatedly attempting to "get lost". It has been fixed some time in the winter of 2009. It would take someone two to three hours to obtain them.
Many players consider the Phoenix eggling to be one of (if not the) hardest pet to collect, due to the fact it can only be attempted once per day. The only other pets generally considered "on par" in rarity are the slayer pets due to the fact the head (or hand) is a rare drop.
Summoning

| | |
| --- | --- |
| Dogs | Bulldog • Dalmatian • Greyhound • Labrador • Sheepdog • Terrier |
| Birds | Penguin • Raven • Saradomin owl • Guthix raptor • Zamorak hawk • Ex-ex-parrot • Phoenix eggling • Vulture |
| Slayer | Creeping hand • Minitrice • Baby basilisk • Cresbot • Baby kurask • Baby aquanite • Abyssal minion • Freezy • TzRek-Jad |
| Hunter | |
| Quest | |
| Others | |

Cats

Cat • Wily cat • Hellcat • Purple cat • Clockwork cat

Fire creatures

Warming Flame • Twisted Firestarter • Searing Flame • Glowing Ember

Holiday
Others
Solomon's General Store
Squeal of Fortune

Phoenix •

Desert Phoenix •

Entrana firebird •
Phoenix eggling •

Phoenix (familiar)