Phoenix crossbow
Discuss

12
22,463pages
on this wiki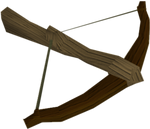 The Phoenix crossbow is a quest item, although it can be traded. It has the same statistics as a regular crossbow, but looks different, costs less and is 5 kilograms lighter. It can be obtained and is used in the quest Shield of Arrav. The Phoenix crossbow requires a Ranged level of 1 to wield, and can only use bronze bolts.
While this item is tradeable (between players), it cannot be traded on the Grand Exchange, and it can only be obtained from another user or from the Phoenix Gang weapon store. Like all other items that are tradeable to other players but not on the Grand Exchange, it can be put into the chest in the Falador Party Room.
The phoenix crossbow can only be obtained normally by Black Arm Gang members after killing the Weaponsmaster in the Phoenix weapon store during the Shield of Arrav quest, as Phoenix Gang members cannot attack the Weaponsmaster, although members of both gangs can use Telekinetic grab to obtain the phoenix crossbow.
Combat Stats

| Class | Slot |
| --- | --- |
| Ranged | |

Weapons
Main
Off
Damage
-
-
Accuracy
10
-
Type
Bolt
-
Attributes
Armour rating

0

Life bonus

+0

Prayer bonus

0

Critical bonuses

0%

0%

0%

Attack speed

Fastest

Interval: 2.4 seconds

Compare item

A player wielding a phoenix crossbow

[view] • [talk]
The crossbow was previously purchasable, but due to complaints about the quest being too easy, Jagex removed it from the Grand Exchange.
Main-hand crossbows

Bronze • Blurite • Iron • Steel • Black • Mithril • Adamant • Rune • Demon slayer • Dragon

Off-hand metal crossbows

Bronze • Iron • Steel • Mithril • Adamant • Rune • Demon slayer • Dragon

Two-handed crossbows
Unstrung crossbows

Bronze • Blurite • Iron • Steel • Mithril • Adamant • Runite • Dragon

Crossbow limbs

Bronze • Blurite • Iron • Steel • Mithril • Adamantite • Runite • Dragon

Crossbow stock

Wooden • Oak • Willow • Teak • Maple • Mahogany • Yew • Magic

Other crossbows

Crossbow • Phoenix • Coral • Dorgeshuun • Zanik's • Hunters' • Karil'sPistol, Off-hand pistol • Armadyl • Chaotic Off-hand• Royal • Dominion