Phoenix is a master firemaker currently travelling with some fellow fire experts to seek treasure in a remote dungeon after one of them had a dream about it. He refers to himself as the "natural leader" of the group and speaks in a breezy tone like a good-natured person. In the dungeon, Phoenix is brutally murdered by his fellow firemaker Emmett who has been possessed by Char. He is the only character who cannot be saved.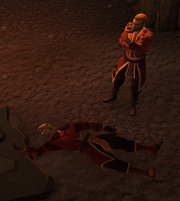 Ad blocker interference detected!
Wikia is a free-to-use site that makes money from advertising. We have a modified experience for viewers using ad blockers

Wikia is not accessible if you've made further modifications. Remove the custom ad blocker rule(s) and the page will load as expected.