A
Phoenix
is a level 120 monster that can be fought in the
Phoenix Lair
. She was voted for by players in the
Guaranteed Content Poll
on
28 April
2008
. She was mentioned in
November 2008
's Behind the Scenes as a future update (as well as
January 2009
's Behind the Scenes) and was released later in the month.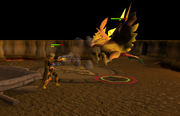 Note: A Slayer stat boost will work to get inside the Phoenix Lair.
Once players have completed In Pyre Need and have 51 Slayer, they may attempt to fight their way through the Phoenix Lair and defeat the Phoenix herself. This can be done once per day.
Players no longer require a minimum of a tinderbox, secateurs, and a knife to enter the lair as they can be stored on a toolbelt. Note: Also take into account that 5 twigs must be picked up, so 5 free inventory spaces are necessary.
Since the Guardians on the way to the Phoenix will block or corner the player, it is recommended to bring a Spirit wolf pouch and some Howl scrolls to scare them off. Otherwise, players might find that they have to kill the guardians to proceed further.
Note: Familiars may fail to follow players through from one cave to the next. If this happens, players should press the Call Familiar button to make their familiars appear next to them.
The Phoenix herself has a combat level of 120 and high Defence. She attacks purely with magic and has been said to hit up to 290. It is advisable for players to use the Protect from Magic prayer and range her. Players may also bring familiars to aid them. Those who have a high Prayer level and access to Ancient Curses should use Deflect Magic and Leech Defence, which have proven very effective.
She may use a "Dust Attack" (though fights in which she never uses this attack have been recorded) which will drain some of a player's stats, even if they have Protect from Magic on. Affected stats are Attack, Magic and Ranged. Boosted stats are affected as if unboosted, so stat boosting potions are a waste. Drained stats will return to their normal (unboosted) levels after a few seconds. This makes using magic against the Phoenix somewhat difficult. Her primary weakness is arrows, so players are advised to bring the best bow they can use.
When the Phoenix is mortally wounded, players must use a tinderbox on the pyre base to light it, burning the Phoenix and turning her to ash. She will quickly be reborn. The player may then speak with the new Phoenix and be rewarded with 5 Phoenix quills and 5,000 Slayer experience. For every kill thereafter, the player will only receive 500 Slayer experience (similar to Bork in the Chaos Tunnels). In addition, for each visit the player will also receive 7,500 Firemaking experience, 3,000 Fletching experience, and 1,000 Crafting experience as a reward for defeating her, as well as the chance to get a Phoenix eggling.
The examine text refers to a 1957 song, Great Balls of Fire.
The brother Phoenix, Si'morgh, may be a reference to the Simurgh, a massive winged bird-like creature of Persian mythology.
If you use the tinderbox on the Wounded Phoenix instead of the pyre she will say, "Light the pyre, not me!"
The disc that both her adult and child version are born from appears similar to ones used to lure the Spirit Beast with various familiars in the quests Spirit of Summer and Summer's End.
The Adventurer's Log will pluralise "phoenix" to "phoenices" if you kill more than one in a row without doing anything else that shows up in the Adventurer's Log.
The Phoenix Lair can be teleported to with a Phoenix lair teleport, a possible reward from Treasure Trails of all levels.
Due to a recent update (July 8, 2012 or so), prayer is no longer drained during the cutscenes, whereas before prayer would continue to drain during the cutscenes. The first two don't drain prayer, however the last cutscene still seems to.
The Phoenix is immune to stun.

Lesser reborn mage •

Greater reborn mage •

Lesser reborn ranger •
Greater reborn ranger •

Lesser reborn warrior •

Greater reborn warrior •
Phoenix

Phoenix •

Desert Phoenix •

Entrana firebird •
Phoenix eggling •

Phoenix (familiar)
Slayer Tower

Crawling Hand • Banshee • Infernal Mage • Bloodveld • Aberrant spectre • Gargoyle • Nechryael • Abyssal demon

Fremennik Slayer Dungeon

Cave crawler • Rockslug • Cockatrice • Pyrefiend • Basilisk • Jelly • Turoth • Kurask • Aquanite

Lumbridge Swamp Caves
Poison Waste Slayer Dungeon
Pollnivneach Slayer Dungeon

Banshee (Mighty) • Cave crawler (Monstrous) • Basilisk (boss) • Turoth (Mightiest and Swarming turoth) • Kurask (overlord) • Aberrant spectre

Meiyerditch Dungeon
God Wars Dungeon

Pyrefiend • Bloodveld • Spiritual ranger • Spiritual warrior • Spiritual mage

Jadinko Lair

Mutated jadinko baby • Mutated jadinko guard • Mutated jadinko male

Polypore Dungeon

Grifolaroo • Grifolapine • Ganodermic runt • Ganodermic beast

Daemonheim

Crawling hand • Cave crawler • Cave slime • Pyrefiend • Night spider • Jelly • Spiritual guardian • Seeker • Nechryael • Edimmu • Soulgazer

Others

Gelatinous Abomination • Desert Lizard • Mogre • Harpie Bug Swarm • Killerwatt • Molanisk • Terror dog • Brine rat • Fever spider • Mutated zygomite • Cave horror • 'Rum'-pumped crab • Dust devil • Skeletal Wyvern • Jungle strykewyrm • Desert strykewyrm • Dark beast • Ice strykewyrm

Specials

Bork • Skeletal horror • Phoenix • Jade vine(wild)

Slayer pets

| | |
| --- | --- |
| Soul Wars | Creeping hand • Minitrice • Baby basilisk • Baby kurask • Abyssal minion • TzRek-Jad |
| Social Slayer | |
| Other | Cresbot |