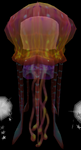 A Phoebe pet token is an item that could be obtained through activities during the Summer Beach Party or purchased through Gill for 50 RuneCoins. It unlocks the Phoebe jellyfish pet.
Drop sources
Edit
This list was created dynamically. For help, see the FAQ.
To force an update of this list, click here.
For an exhaustive list of all known sources for this item, see here.
| Source | Combat level | Quantity | Rarity |
| --- | --- | --- | --- |
| Clawdia | 250 | 1 | Rare |
The item was previously available from the Grand Exchange as Jellyfish pet token, with its inventory icon as a spin ticket. It was removed a week after its initial release, on 6 July 2015, with its price at 2,279,184 coins. All outstanding offers for these items were automatically cancelled.
Under this name as well, it has since been removed from the Grand Exchange with its price at 1,594,784 coins.
NPCs
Items
Rewards
Interactive scenery
Music
Treasure Hunter
Summer Beach Party
Ad blocker interference detected!
Wikia is a free-to-use site that makes money from advertising. We have a modified experience for viewers using ad blockers

Wikia is not accessible if you've made further modifications. Remove the custom ad blocker rule(s) and the page will load as expected.