Pernix equipment
Discuss

11
26,116pages on
this wiki
Pernix armour is a set of degradable high-level Ranged power armour that requires 80 Range, 80 Defence, and 80 Constitution to wear. It was first mentioned on 3 January 2011[1] and released into the game on 10 January 2011[2]. Pernix armour pieces may only be obtained as rare drops from Nex, the boss of the Zarosian stronghold of the God Wars Dungeon, the Ancient Prison. It is the Ranged counterpart to Virtus armour and Torva armour, which are respectively Magic and Melee sets.
As tier 80 equipment, Pernix armour is currently the third highest-level Ranged armour in the game (behind sirenic and death lotus), and the second-best Ranged power armour.
Wearing any piece of Pernix, Torva, or Virtus armours, or wielding a Zaryte bow, Virtus wand, Virtus book or ascension crossbow, will cause all factions of monsters in the God Wars Dungeon (aside from bosses or the Ancient Prison) to be unaggressive.
This armour is categorized as power armour. Whilst wearing pieces of power armour, you will receive a damage boost as long as you're using a weapon of synonymous class. Pernix is a tier-80 ranged-based armour, so, naturally, you'll need to use a ranged weapon to receive the bonus. The damage boost that you receive is found by taking a percentage of the base weapon damage of a tier-80 main-handed weapon/spell/ammo of "Fastest" speed (768). Each piece of power armour that you wear gives you a higher percentage of this number, up to a maximum of 10%. The Boots and Gloves give 1% each, The Body gives 3.5%, The Legs give 2.5%, and Helmet gives 2%. Wearing an entire set of this power armour will give a 76.8 damage boost to your ranged attacks.
Degrading and repair
Edit
Pernix armour fully degrades after 10 hours of combat. Its bonuses are not lost as it degrades; they remain constant throughout the ten hours. The percentage of an item's charge can be checked by right-clicking it and selecting 'check-charge'. Each individual item in the set can be repaired either at Bob's Brilliant Axes or at an armour stand in a player-owned house. Repair costs at an armour stand decrease linearly based on the player's Smithing level, which can be boosted, but not assisted.
Pernix armour repair cost
Piece
Bob's Brilliant Axes
Armour stand with 100 Smithing

Pernix cowl
 500,000 coins
 250,000 coins

Pernix body
 2,000,000 coins
 1,000,000 coins

Pernix chaps
 1,000,000 coins
 500,000 coins

Pernix gloves
 200,000 coins
 100,000 coins

Pernix boots
 100,000 coins
 50,000 coins
Full set
 3,800,000 coins
 1,900,000 coins
Grand Exchange price
Edit
Item shards are obtained from certain monsters while having CoinShare on. When a rare drop is given by the monster, 120 item shards are divided up among the involved players and sent to their banks. 120 shards can then be combined to give the original item.
Icon
Shard
Price
x120 Total
Pernix cowl shard
101,778
 12,213,360
Pernix body shard
199,729
 23,967,480
Pernix chaps shard
189,111
 22,693,320
Pernix gloves shard
96,583
 11,589,960
Pernix boots shard
88,609
 10,633,080
Total price
 81,097,200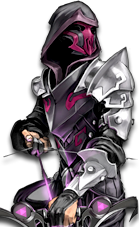 References
Edit