Pernix equipment
Discuss

11
24,904pages
on this wiki
Pernix armour is a set of degradable high-level Ranged power armour that requires 80 Defence and 80 Constitution to wear. It was first mentioned on 3 January 2011[1] and released into the game on 10 January 2011[2]. Pernix armour pieces may only be obtained as rare drops from Nex, the boss of the Zarosian stronghold of the God Wars Dungeon, the Ancient Prison. It is the Ranged counterpart to Virtus armour and Torva armour, which are respectively Magic and Melee sets.
As tier 80 equipment, Pernix armour is currently the third highest-level Ranged armour in the game (behind sirenic and death lotus), and the second-best Ranged power armour.
Wearing any piece of Pernix, Torva, or Virtus armours, or wielding a Zaryte bow, Virtus wand, Virtus book or ascension crossbow, will cause all factions of monsters in the God Wars Dungeon (aside from bosses or the Ancient Prison) to be unaggressive.
This armour is categorized as power armour. Whilst wearing pieces of power armour, you will receive a damage boost as long as you're using a weapon of synonymous class. Pernix is a tier-80 ranged-based armour, so, naturally, you'll need to use a ranged weapon to receive the bonus. The damage boost that you receive is found by taking a percentage of the base weapon damage of a tier-80 main-handed weapon/spell/ammo of "Fastest" speed (768). Each piece of power armour that you wear gives you a higher percentage of this number, up to a maximum of 10%. The Boots and Gloves give 1% each, The Body gives 3.5%, The Legs give 2.5%, and Helmet gives 2%. Wearing an entire set of this power armour will give a 76.8 damage boost to your ranged attacks.
Degrading and repair
Edit
Pernix armour fully degrades after 10 hours of combat. Its bonuses are not lost as it degrades; they remain constant throughout the ten hours. The percentage of an item's charge can be checked by right-clicking it and selecting 'check-charge'. Each individual item in the set can be repaired either at Bob's Brilliant Axes or at an armour stand in a player-owned house. Repair costs at an armour stand decrease linearly based on the player's Smithing level, which can be boosted, but not assisted.
Pernix armour repair cost
Piece
Bob's Brilliant Axes
Armour stand with 100 Smithing

Pernix cowl
 

500,000

coins
 

250,000

coins

Pernix body
 

2,000,000

coins
 

1,000,000

coins

Pernix chaps
 

1,000,000

coins
 

500,000

coins

Pernix gloves
 

200,000

coins
 

100,000

coins

Pernix boots
 

100,000

coins
 

50,000

coins
Full set
 

3,800,000

coins
 

1,900,000

coins
Grand Exchange price
Edit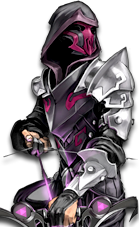 References
Edit
Headgear

 Leather cowl •  Focus sight •  Coif •  Carapace •  Snakeskin •  Green d'hide •  Archer helm •  Ranger hat •  Robin hood hat •  Sacred clay coif •  Spined helm •  Demon slayer circlet • Blue d'hide •  Red d'hide •  Black d'hide •  Blessed d'hide •  Royal d'hide •  Third-age •  Karil's •  Armadyl helmet •  Morrigan's (corrupt) •  Pernix cowl •  Death lotus hood (sup) •  Sirenic mask

Body

 Leather •  Hard leather •  Studded(t)(g) •  Frog-leather •  Carapace •  Snakeskin •  Green d'hide(t)(g) •  Spined •  Demon slayer torso • Sacred clay •  Blue d'hide(t)(g) •  Red d'hide •  Black d'hide •  Blessed d'hide •  Royal d'hide •  Third-age •  Karil's •  Armadyl •  Morrigan's (corrupt) •  Pernix •  Death lotus chestplate (sup) •  Sirenic hauberk

Legs

 Leather •  Studded(t)(g) •  Frog-leather •  Carapace •  Snakeskin •  Green d'hide(t)(g) •  Spined •  Demon slayer skirt •  Sacred clay •  Blue d'hide(t)(g) •  Red d'hide •  Black d'hide •  Blessed d'hide •  Royal d'hide •  Third-age •  Karil's •  Armadyl •  Morrigan's (corrupt) •  Pernix •  Death lotus chaps (sup) •  Sirenic chaps

Shields

 Leather shield •  Hard leather shield •  Studded leather shield •  Green d'hide shield •  Blue d'hide shield •  Red d'hide shield •  Black d'hide shield •  Dragonfire shield (ranged) •  Armadyl buckler •  Elysian shield •  Eagle-eye shield • Vengeful kiteshield

Vambraces

 Leather gloves •  Leather vambraces (spiky) •  Hard leather •  Studded leather •  Carapace •  Snakeskin •  Green d'hide (spiky) •  Spined •  Demon slayer gloves • Blue d'hide (spiky) •  Red d'hide (spiky) •  Black d'hide (spiky) •  Blessed •  Third age •  Royal d'hide (spiky) •  Armadyl •  Mercenary's •  Swift •  Pernix •  Tracking gloves

Footwear

 Leather •  Hard leather •  Studded leather •  Frog-leather •  Carapace •  Snakeskin •  Ranger boots •  Spined boots •  Demon slayer boots •  Armadyl boots • Pernix boots •  Glaiven boots

Cape

 Arrowstorm drape •  Ava's attractor •  Ava's accumulator •  Ava's alerter •  Max cape •  Completionist cape

Neck

 Amulet of accuracy •  Amulet of power •  Amulet of glory •  Amulet of fury •  Amulet of ranging •  Saradomin's murmur
Godswords

 Armadyl •  Bandos •  Saradomin •  Zamorak

| | |
| --- | --- |
| Shards |  Shard 1 •  Shard 2 •  Shard 3 •  Shards(1&2 • 1&3 • 2&3) •  Blade |
| Hilts | |

Robes of subjugation
Armadyl armour

 Helmet •  Chestplate •  Chainskirt •  Gloves •  Boots •  Buckler

Bandos armour
Torva armour
Pernix armour
Virtus armour
Ancient ceremonial robes
Frozen key

 Frozen key •  Armadyl •  Bandos •  Saradomin •  Zamorak

Weapons

 Saradomin sword •  Zamorakian spear •  Armadyl crossbow •  Steam battlestaff •  Zaryte bow •  Virtus wand •  Virtus book

Amulets
Books

 Armadyl's assault •  Zilyana's notes •  The glory of general graardor •  Nex's followers •  Razulei's tale

Soulstones

 Armadylean soulstone •  Bandosian soulstone •  Saradominist soulstone •  Zamorakian soulstone