Penny is a miniature Dark Lord pet that can be obtained by combining a dark soul, dark mind and dark body, which are rare drops (1/1000; 1/2000; and 1/3000, respectively) from the truthful shadows, blissful shadows and manifest shadows in the Amlodd clan district of Prifddinas.
When all three parts are combined, the chat box will state "You combine the dark mind, body and soul to form the penumbra pet!" If the player owns more copies of the parts when combining the three parts, the additional parts will disappear.
The pet has no dialogue, and the only interaction that can be performed with Penny only happens when the player has a light source in their inventory. When interacting with Penny while having a light source in the inventory, a message states "Penny shies away from the light source you are carrying." and an animation with audio plays that shows Penny flinching with its arm covering its face.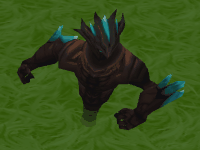 Ad blocker interference detected!
Wikia is a free-to-use site that makes money from advertising. We have a modified experience for viewers using ad blockers

Wikia is not accessible if you've made further modifications. Remove the custom ad blocker rule(s) and the page will load as expected.