Penance trident
Discuss

42
22,477pages
on this wiki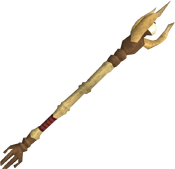 The
penance trident
is a
staff
from
Barbarian Assault
. It requires level 70
Magic
to wield. The trident comes with a special effect and can be upgraded to the
penance master trident
for an additional 220 points in each role, when you also have 70
Attack
, by speaking to
Commander Connad
.
When equipped, it will attempt to 'save' runes used in any spell. This is how it does so:
The trident finds out how many different rune types you are using for your spell.
For each rune type the trident makes a 1 in 60 roll.
If successful it will save all runes of that type.
So for example, the spell Earth Blast requires 3 air runes and 3 earth runes; there is a 1 in 60 chance that once cast, your penance trident will save either 3 air runes or 3 earth runes. The penance trident cannot save only some of the runes of any rune type, it will either save none or all of any rune type.
This rune saving ability is not as cost effective as using an elemental staff in most cases, but a number of spells do not use any elemental runes.
These are:
Of course, for some spells, the 1/60 saving might outweigh the cost of elemental runes (such is the case in shadow spells occasionally), but the Grand Exchange prices change such that this is never permanent. The rune saving ability works for all spells. For combat spells, the staff of light may be a better choice since it can save all of the runes for a combat spell with 1/8 probability.
Combat Stats

| Class | Slot |
| --- | --- |
| Magic | |

Weapons
Main
Off
Damage
-
-
Accuracy
-
-
Type
-
-
Attributes
Armour rating

0

Life bonus

+0

Prayer bonus

0

Critical bonuses

0%

0%

0%

Attack speed

Average

Interval: 3.6 seconds

Compare item

A player wielding the penance master trident

[view] • [talk]
Game Details

Basics • Gameplay • Strategies • Rewards • Wave Breakdown

Equipment

| | |
| --- | --- |
| Hats | |
| Tridents | Penance trident • Penance master trident |
| Armour | Fighter torso • Penance skirt • Penance gloves • Runner boots |
| Horns | |
Staves
Battlestaves

Battlestaff • Air • Water • Earth • Fire • Lava • Mud • Steam

Mystic staves
Skeletal staves
Skeletal battlestaves
Necromancer's staves
Dungeoneering staves

Air empowered • Water empowered • Earth empowered • Fire empowered • Catalytic empowered, celestial • Doomcore • Law • Nature • Gravite • Chaotic

God staves
Talisman staves

Runecrafting • Air • Mind • Water • Earth • Fire • Body • Cosmic • Chaos • Nature • Law • Death • Blood • Omni

Animal staves
Runic staves
Game card

Lightning staff 1 • Lightning staff 2 • Lightning staff 3 • Lightning staff 4

Other staves

Ahrim's • Ancient Enhanced • Blisterwood • Broken • Caitlin's • Crozier • Dominion • Dramen • Iban's • Lunar • MindspikeTower • Penance trident • Pharaoh's sceptre • Polypore • Rod of Ivandis • Sacred clay • Skull sceptre • Slayer's • Staff of Armadyl • Staff of light • StarfireStarfury • Third-age druidic • Toktz-mej-tal • Wizards' Tower Zuriel's corrupt