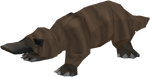 Peanut is a platypus who appears in the As a First Resort quest. The player must catch her using a box trap in order to relocate her to the east of the village of Oo'glog.
On being released, she will reward the player either with a casket or an oyster.
Peanut is a member of a family of four platypodes, which also includes Patrick, Penelope and Peter.
The four members of the platypus family in the quest, As a First Resort... all have names beginning with the letter "P".
NPCs
Items
Locations
Music
Miscellaneous
Ad blocker interference detected!
Wikia is a free-to-use site that makes money from advertising. We have a modified experience for viewers using ad blockers

Wikia is not accessible if you've made further modifications. Remove the custom ad blocker rule(s) and the page will load as expected.