Pay-to-play melee training
Discuss

97
22,528pages
on this wiki

This article provides information for members about effective ways to train Attack, Strength, Defence, and Constitution through melee combat. It contains some general training tips and suggestions for suitable monsters to kill for a wide range of levels. In this article, monsters are sorted according to the level of the skill being trained, not the recommended overall combat level.
This article assumes that players are training Attack, Strength, Defence, and Constitution more or less equally. If not, see the pure melee guide.
General training notes
Edit
Abilities
Edit
Healing abilities are a must for extending the length of a training trip. The Resonance ability is a basic level Defence ability, that causes the next hit to heal instead of damage you. Rejuvenate is an ultimate Defence ability that restores 40% of your life points over several seconds. Regenerate is a basic Constitution ability that uses whatever adrenaline you have left to restore your health if you're not in combat.

Although the Resonance and Rejuvenate abilities require a shield to be equipped, you only need to equip the shield for as long as it takes to activate the ability if you prefer to dual wield or use two-handed weapons.
Another great healing ability is Guthix's Blessing, which will heal you 8% of your maximum hitpoints every two seconds, up to ten seconds. This ability should only be used when not in direct combat with a monster as the summoned butterfly can be attacked and killed, ending the effect prematurely.

Consider using threshold abilities instead of ultimate ones; the damage done by thresholds is lower, but they use less adrenaline, meaning more than one can be used in a row.
Set up your action bar before you go into combat, making sure all the abilities you want to use are on there, and that all the abilities are ones you can use with the weapons you have. Remember that you can have multiple bars set up at once, and there is no penalty for changing which one you're using.
Common equipment, accessories, and setups
Edit
Each weapon can train attack, strength, and defence. Just click on your combat tab followed by the XP button and click the stat you want your hits to train.
Utilise monster weaknesses. Using a crush weapon against a monster weak to crush gives a much higher chance to hit against that monster, and significantly higher hits. Monsters who have a weakness to ranged attacks will have a very high defence to melee attacks.
Always use the best tier of weapons you can wield. Better weapons ensure higher damage output and a higher chance to hit. 
The abyssal whip is a very popular weapon for combat training due to its rapid attack speed and relatively low cost. It can be upgraded to the abyssal vine whip (a level 75 weapon) however this requires level 80 slayer. The non-degradable off-hand equivalent for an abyssal vine whip is the enhanced excalibur .
The next best weapons after whip vine/excalibur are chaotic (level 80) and Drygore weaponry (level 90). However chaotic and drygore weaponry degrades with use and will require a maintainance cost.
Main hand: Abyssal whip < Abyssal vine whip < Chaotic weaponary < Drygore weaponary.
Off-hand:    Dragon claw < Enhanced excalibur < Chaotic weaponary < Drygore weaponary .
For extended combat training, armour with a good defensive bonus is generally recommended. Consider rune, dragon, Barrows, or Bandos armour depending on your Defence level. Bandos armour is particularly good, for those who can afford it, due to its offensive and life point bonuses. Barrows armour is a cheaper alternative, with a higher defence rating in comparrison to bandos. Although it degrades with use, meaning that it will incur a maintenance cost. Alternatively, the void knight melee armour (from the pest control minigame) with a set effect of increased attack and strength bonuses is a viable way to train melee fast. Due to the increased damage output.
Sacred clay equipment, rewards from Stealing Creation, doubles the experience gained from combat, even if only one piece is worn. It offers the same defensive bonuses as rune armour. Most players choose to use their Stealing Creation on skills that cost money to train rather than combat, which is usually profitable.
Armour types:
After the Evolution of Combat, food is much less necessary than it was before. Generally speaking, most of the time you will not need food if you use healing abilities such as Rejuvenate, an ultimate ability which restores 40% of your health (but requires a shield, and can only be used once every 300 seconds, due to a recent update), Regenerate, which can be used outside combat to convert remaining adrenaline into health, and Resonance, which makes the next attack to hit you heal you instead of hurting you.
Other methods of healing include:
Using food
Guthan the Infested's equipment has excellent defence bonuses and a set effect, which players can use to heal themselves. However, use of Guthan's has a few downsides. Use of guthan's helm prevents the use of other head-slot items, such as a slayer helm or face mask. Guthan's spear is merely an average weapon. For these reasons, some players bring a set of Guthan's in addition to their regular armour set, and switch between the two as necessary when needing to heal.
Bones to Peaches is a spell unlocked at the Mage Training Arena which allows players to convert bones and big bones into peaches, each of which heals 80 life points. Players who have not unlocked this spell can instead buy and use bones to peaches tablets.
Soul Split requires 92 Prayer and access to the Ancient Curses. It heals its user 10% of the damage dealt if it is activated during a successful hit against a monster. Because of its rapid drain rate, many players use the prayer flashing technique to drastically reduce, or outright nullify, Prayer point drain.
The Saradomin godsword's passive effect, Healing Blade, has a 25% chance of healing the player for the damage dealt with every hit.
Auras such as vampirism help by healing the player by 5% of damage dealt with every hit.
Healing familiars such as the Bunyip and Unicorn stallion.
Suggested training monsters
Edit
Note: These level guidelines are for all three styles, Attack, Strength, and Defence. For example: levels 1-10 kill chickens. Meaning, for levels 1-10 in all three styles of combat you should kill Chickens. Once all three have reached level 10, you can then move on.
Level 10-20
Edit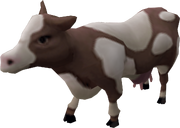 Cows give good xp when compared to the difficulty of killing them, and their hides are also valuable. Killing cows is one of the best ways to get your melee stats up until about level 15. Cows can be found on fields such as near the Crafting Guild, Lumbridge, or Falador farm.
Kill the cows in Burthorpe as they have less hitpoints and provide the same experience.
There is a field next to Beefy Bill where you can collect cowhides and bank them with him. However he will take anywhere from 1-4 of your cowhides and bank the rest for you (he takes 4 if you have a full inventory). This method is especially good for starting players who want to make money.  This field can be found by following the path north from Lumbridge (towards Varrock), past the goblins and the milk seller to an area slightly north. Alternatively you can home teleport to Varrock lodestone (not Varrock teleport) and head south-west past the Champions' Guild, mining area and farming patch.
Level 20-30
Edit
Al Kharid Palace is a good training location at this level. With a moderate Defence level, the Al Kharid Warriors (37 xp) here will deal low damage while also dropping grimy herbs quite frequently.                
Level 30-50
Edit
The barbarians in the Barbarian Village give better xp rates for these levels. Barricading yourself in the longhall (the large building on the north side of the village) seems to be a nice way to keep the barbarians in a small, dense area and prevents yourself from having to run all over the village to kill them. Remember to use the best equipment for your level, such as Adamant armour or, if funds permit, the Elite Black armour. 
The cow fields south of Burthorpe Loadstone, offers large experience and fast spawn times. With weapons tailored for your levels, you shouldn't have any problem being able to take these cows down (general in one hit) and recieve 40 exp a kill, as well as the fact these cows respawn at a rate quick enough to keep them in supply. There is also a bank located north of the fields, outside the Troll Invasion event, that allows for quick banking of Cow Hides, if you wish to make some money.

Level 50+
Edit
Ankou are levels 86, 88 and 90. They are found on the lowest level of the Stronghold of Security , right next to the Cradle of Life chamber.
They are quite easy to defeat, and if you use the Flurry ability, and bring lots of food, you can attract a lot towards you to defeat.
If you have completed the Sepulchre of Death (the 4th level), you can teleport to the Cradle of Life , and then go out of the door.
Although their weakness is Earth Spells, they are relatively easy to defeat.
Level 60-70
Edit
One way to train in this level range is in the Tzhaar fight pits, which give you over 300 experience per kill.
Playing Pest Control can also be a good training method.
Killing Hellhound can give good amounts of exp.
Level 70+
Edit
The TzHaar area is fairly decent for training. Using abilities, one can get around 50k experience an hour while making a fair amount of profit. The area is rarely crowded, and the monsters can be killed by low levels, though the expected experience rates will be less impressive for those with lower levels.
At level 70, dagganoths are a great option. Use a combination of a 2h slashing weapon (to exploit the weakness of TzHaar-Xils) and their area of effect abilities, or a single weapon and a shield for the healing capabilites of the shield.
Killing fire giants at 70 Attack and above can provide large amounts of experience. These giants are weak to slash, so use of slash weapons such as the abyssal whip is recommended. A dragon halberd is also highly recommended and even though it is a 2h weapon, with the use of abilities it provides one of the fastest experience gains at fire giants.
If you have 65 Slayer, dust devils can give up to 250k experience/hour if using a chaotic maul and the Berserker ability. Remember to equip a face mask, masked earmuffs, a slayer helmet, or a full slayer helmet to avoid being hit for rapid amounts of damage and having your combat stats reduced. They are weak to crush, so weapons such as Verac's flail or the Saradomin sword will provide faster experience than stabbing or slashing weapons.
The Living Rock Caverns provide a great way to gain experience. Over 500 experience per kill is gained. They provide great drops, and aren't often crowded. High levelled players can make up to 400k gp an hour while levelling up fairly quickly. Use a crushing weapon and kill the strikers for best results.
Another method is to kill bandits in the Kharidian Desert bandit camp. This is a dual wielders haven for levelling up. The reason behind this is when you attack a bandit, the rest will also attack you. Having a Saradomin or Zamorak item equipped will also keep the bandits attacking you indefinitely. One should keep auto relaliate on to save some clicking. Using the Flurry ability can greatly damage all the surrounding enemies and help speed up kills. Above level 150 combat, using Guthans equipment or healing abilities will eliminate the need to use food.
Level 80+Edit