Pahtli fruit can be found in the Nemi Forest. It is used as a part of one of Trinks' tasks; returning to Trinks will award 15 reputation.
They can only be harvested if Trinks has assigned a player to pick from the Pahtli plant in the Nemi Forest.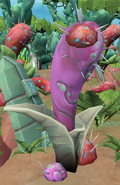 Pahtli means "medicine" in the Nahuatl language, also informally known as Aztec language.
Inhabitants
Items
Obstacle item sources
Obstacles
Reputation
Related
Ad blocker interference detected!
Wikia is a free-to-use site that makes money from advertising. We have a modified experience for viewers using ad blockers

Wikia is not accessible if you've made further modifications. Remove the custom ad blocker rule(s) and the page will load as expected.