Pack yak
Level
96
Duration (

min

)
58
Points cost
10
Race
Yak
Abilities
Beast of burden - 30 slots
Special moves
Winter Storage
Combat level
175
Examine text
Bulk haulage never smelled so bad.

Combat stats
Life Points
Max hit
4495
180
Attack
Defence
Ranged
Magic
70
70
70
70
Immune to poison?
Yes
Attack Style
Melee (Strength)
[view] • [talk]
Pack yaks
are level 96
Summoning familiars
with the largest inventory among all the
Beasts of burden
. They have the capability of holding up to 30 items for a player, whose value can be no more than 50,000 gp each (
1,500,000
gp
in total). Pack yaks also have a
special move
called Winter Storage, allowing instant banking. Similar to the
Unicorn Stallion
and
Bunyip
, a Pack yak will fight only when attacked.
Pack yak pouch
Edit
A Pack yak pouch is made by using a Summoning pouch on a Summoning obelisk with 211 spirit shards, a Crimson charm and a yak-hide in the inventory. Making the pouch earns 422.4 experience points. Using the pouch to summon a Pack yak gains 4.8 experience points, and costs 10 Summoning points. Each pouch summons a Pack Yak which stays alive for 58 minutes before needing to be re-summoned.
Winter storage scroll
Edit
Winter storage scroll enables the use of the Winter Storage special move for a Pack yak. Using the pouch on a Summoning obelisk creates 10 scrolls.
Winter Storage
Edit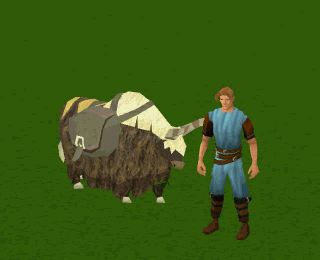 Winter Storage is the special move for the Pack yak, which when used on an item in the player's inventory, instantly banks it without the need for visiting a bank in person. This allows players to remain in a certain area for extended periods of time, remotely banking items. When using the scroll on noted items only one item will be banked per scroll. The special move is also used while PKing because the special move can bank the gear of the player, thus not risking the items should they die. As the familiar lasts for 58 minutes, summoning the Pack yak with a full special moves bar provides 1800 special move points over the course of its lifespan, allowing you to potentially use the Winter storage scroll 150 times. In cases where one will acquire more than 150 drops within that one hour, alternative methods may be necessary for banking in addition to the Pack yak. Casting the spell Make Leather and crafting dragonhide bodies will allow the yak's inventory to hold 90 dragonhides' worth of dragonhide bodies, and so players wishing to train at Green or Blue dragons may wish to use this method to bank all of the Dragon bones and Dragonhides that the dragons will drop - using Winter storage to bank Dragon bones immediately, and casting Make Leather 3 times when 15 Dragonhides are acquired, crafting 5 Dragonhide bodies and storing them in the yak, and repeating the process.
In the original update, Pack yaks could only hold 10 items, although the items would stack.
The Winter storage scroll can be used even in the high Wilderness to send items to your bank.
Occasionally, you might see the Pack Yak say "Baroo baroo!" which is odd because the regular yaks on Neitiznot say "Moo".
After an update, you can no longer use Winter Storage scrolls to bank items in the Crucible, giving a message saying, "You cannot use that spell whilst in the Crucible."
Pack yaks are considered to be the most useful out of all familiars, with its large inventory and storage ability.
Gold charm

Spirit wolf • Dreadfowl • Spirit spider • Thorny snail • Granite crab • Spirit mosquito • Bull ant • Spirit terrorbird • Barker toad • War tortoise • Arctic bear

Green charm

Desert wyrm • Compost mound • Beaver • Void ravager • Macaw • Spirit cockatrice • Spirit guthatrice • Spirit saratrice • Spirit zamatrice • Spirit pengatrice • Spirit coraxatrice • Spirit vulatrice • Magpie • Abyssal parasite • Ibis • Abyssal lurker • Bunyip • Fruit bat • Forge regent • Giant ent • Hydra • Unicorn stallion • Abyssal titan

Crimson charm

Spirit scorpion • Spirit Tz-Kih • Vampyre bat • Honey badger • Evil turnip • Pyrelord • Bloated leech • Smoke devil • Spirit cobra • Stranger plant • Ravenous locust • Phoenix • Granite lobster • Praying mantis • Talon beast • Spirit dagannoth • Swamp titan • Wolpertinger • Iron titan • Pack yak • Steel titan

Blue charm

Albino rat • Spirit kalphite • Giant chinchompa • Void shifter • Void spinner • Void torcher • Bronze minotaur • Iron minotaur • Spirit jelly • Steel minotaur • Spirit graahk • Spirit kyatt • Spirit larupia • Karamthulhu overlord • Mithril minotaur • Obsidian golem • Adamant minotaur • Fire titan • Ice titan • Moss titan • Lava titan • Rune minotaur • Geyser titan

Other

See also: Summoning • Beast of Burden • Forager • Charms • Summoning Obelisks • Summoning pets • Summoning pouches • Summoning scrolls • Wishing well • Dungeoneering familiars