Otherworldly being
Discuss

0
27,293pages on
this wiki
Otherworldly being
Release date
27 February 2002 (Update)
Members?
Yes
Combat level
63
XP per kill
138 (and 45.5 experience)
Always drops
None
Examine text
Looks pretty otherworldly to me!
Slayer info
Slayer level
1
Slayer XP
36
Assigned by
Vannaka

Combat info
LP
Max hit
2,250
130+
Attack
Defence
Ranged
Magic
Unknown
Unknown
Unknown
Unknown
Immune to
Poison?
Stun?
Deflect?
No
No
No
Attack Speed

Speed 6 (Interval: 2.4 seconds)

Aggressive?
Poisonous?
No
No
Attack style
Weakness
Magic
Thrown
[view]
Otherworldly beings are found in the south-west of Zanaris, south of the range.
They used to be popular monsters due to the chance of their dropping dragon helms and their close proximity to a bank. However, this was back when the helms were very rare and above 1 million coins in price. Due to the frustrating and constant mini-random events in Zanaris, the Otherworldly beings are not commonly fought. They are located just South of the bank and cooking range in a separate room. Good gear is recommended for lower and higher levels as they can frequently hit 60s and 70s, therefore it is recommended you have good food (such as monkfish or sharks).
Slayer masters give the following advice for this creature: "Otherworldly Beings are ethereal beings making them weak to ranged attacks."
Strategies
Edit
There are a few ways to safe spot the Otherworldly beings from almost anywhere in the area, however it has proven difficult to safe spot to some players;
The best places to safe spot them is in both crooks of the nearby pond (on the North and the South side respectively).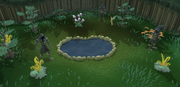 Hold them behind obstacles like the large trees and the space between the pink flower bush and the pond, which is impassable, providing a very easy way to safe spot. You must be careful to attack when the Otherworldly Being is walking away, and not around, the bush or you'll find yourself running around the bush to attack.
Wait until a fairy has positioned itself in an open area, where the 8 squares around it are unblocked, then talk to the fairy without walking through it. You can then attack an Otherworldly being on the other side of the fairy. As long as you don't walk away from the fairy, it will stay next to you where it is, blocking the path of the Otherworldly being. As long as you don't walk through the fairy, the Otherworldly being will not be able to walk through it.
Simply use the pond itself as an obstacle; Trap the beings diagonally, or directly opposite from you and attack them with the combat style you are using, However, Otherworldly beings have the tendency to flee, so players must be aware that their character may give chase.
Rare drop table drops
Edit
Universal drops
Edit
Otherwordly beings received a graphical update along with Zanaris on 13 May 2010. Prior to the graphical update, Otherworldy beings were apparently invisible beings, and hence appeared as floating Dark Wizard robes. However, after the update they now have visible body parts.
Their old examine text was: Is he invisible or just a set of floating clothing?
If a Zanaris random event is triggered which renders you temporarily unable to attack (like turning into a pig or a chicken, performing the Dance emote) and you are in combat with an Otherworldly being, the Otherworldly being continues to attack, hitting for no damage. You are unable to retaliate, however.
In Runescape Classic, Otherworldly beings dropped 2 coins each kill.
If under a raincloud, it will disappear.
Irksol, an Otherworldly being in the Zanaris Marketplace