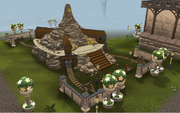 Ore is one of the resources used in Clan Citadels. It is obtained by mining the rocks found at a Mining plot in Citadels. It is available at tier 3 mining plots and above. It can be used to make Metal bars, which are used in many of the structures and statues.
Skill plots
Resources
Ore
Buildings and features
Customisation and costs
Other
Ad blocker interference detected!
Wikia is a free-to-use site that makes money from advertising. We have a modified experience for viewers using ad blockers

Wikia is not accessible if you've made further modifications. Remove the custom ad blocker rule(s) and the page will load as expected.