Onion seed
Discuss

0
22,529pages
on this wiki
Onion seed
Release date
6 June 2005 (Update)
Farming level
5
Patch
Allotment
Time
40 min (4x10 min)
Planting XP
9.5
Checking XP
N/A
Harvesting XP
10.5
Payment
1 Sack of potatoes
Tradeable?
Yes
High Alch
6 coins
Low Alch
4 coins
Store price
10 coins
(Olivia)
Exchange price

2

coins (update)
Buy limit
500
Examine
An onion seed - plant in an allotment.
[view] • [talk]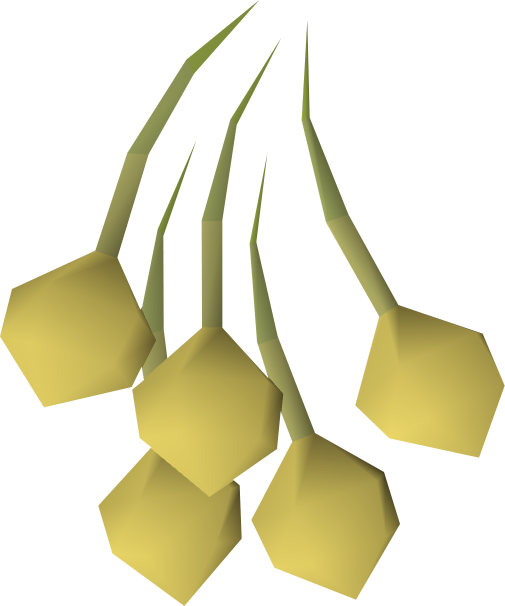 Onion seeds are the second seeds able to be grown in allotment patches. They may be pickpocketed from Master Farmers and seed stalls or bought from Olivia for 10 coins in Draynor market. Onion seeds may also be obtained when harvesting onions from a field. They are also used In the Garden of Tranquility quest.
White lily obtained from full completion of Falador Task hard, will prevent onion disease. This flower requires to be planted on flower patch.
Stage
Description
Image
Healthy Onion plant
1
The onion seeds have only just been planted.
2

The onions are partially visible and the stems have grown

3
The top of the onion of the onion plant is clear above the ground and the onion is white.
4
The onion plant is slightly larger than before and the onion is cream coloured.
5
The onion stalks are larger than before and the onion is now light brown coloured.
Dropping monsters
Edit
Levels 1 to 24
Edit
Levels 25 to 49
Edit
Levels 50 to 74
Edit
Levels 75 and above
Edit
Allotment seeds

Potato • Onion • Cabbage • Tomato • Sweetcorn • Strawberry • Watermelon • Snape grass • Sunchoke • Fly trap

Flower seeds

Marigold seed • Rosemary seed • Nasturtium seed • Woad seed • Limpwurt seed • White lily seed • Butterfly flower

Herb seeds

Guam • Marrentill • Tarromin • Harralander • Gout tuber • Ranarr • Spirit weed • Toadflax • Irit • Wergali • Avantoe • Kwuarm • Snapdragon • Cadantine • Lantadyme • Dwarf weed • Torstol • Fellstalk

Hop seeds

Barley seed • Hammerstone seed • Asgarnian seed • Jute seed • Yanillian seed • Krandorian seed • Wildblood seed • Reeds • Grapevine seed

Bush seeds

Redberry seed • Cadavaberry seed • Dwellberry seed • Jangerberry seed • Whiteberry seed • Poison ivy seed • Barberry • Wishing well

Tree seeds

Acorn • Willow seed • Maple seed • Yew seed • Magic seed

Fruit tree seeds

Apple tree seed • Banana tree seed • Orange tree seed • Curry tree seed • Pineapple seed • Papaya tree seed • Palm tree seed

Special seeds

Evil turnip seed • Bittercap mushroom spore • Jade vine seed • Cactus seed • Belladonna seed • Calquat tree seed • Morchella mushroom spore • Prickly pear • Spirit seed • Potato cactus

Quest seeds

Delphinium seed • Yellow orchid seed • Pink orchid seed • Snowdrop seed • Vine seed • White tree shoot • Red rose seed • Pink rose seed • White rose seed • Hardy gout tubers • Enriched snapdragon seed • Blindweed seed • Kelda seed