One Small Favour
Discuss

24
22,528pages
on this wiki
This quest has a quick guide, found here, which briefly summarises the steps needed to complete the quest.
Official description
"
If you're fresh to Shilo Village after solving the mystery (or even if you did it some time ago), you may like to check out Yanni Salika's antiques shop.

He's a busy chap, revamping antique items, checking out new stock from potential adventurers and maybe he'll have a small(1) favour to ask of you. It is probably nothing particularly large - Yanni isn't a demanding(2)person, after all - and it should hardly take you any time(3) at all really. Just something to do when you have a spare moment.

That's assuming there aren't any complications.

1: - Perception of the word "small" may be open to interpretation.

2: - In a recent vote, Yanni Salika was only voted the second most demanding person in Shilo Village.

3: - As everyone knows, time is relative.

"
Walkthrough
Start point:
Talk to Yanni in the antique shop in Shilo Village.
Member requirement:
Official difficulty:
Experienced
Length:
Long. (Lots of travel; 2 - 5 hours without teleports or other forms of transportation but time can be reduced by a large amount using the lodestone network.)
Requirements:

Quests:

Items required:
Items from the toolbelt do not need to be listed unless that version won't work, or aren't automatically added to it.


Recommended items:

Enemies to defeat:
Karamja
Recommended for this part: Fairy rings, Amulet of Glory, Explorers Ring 3 or 4, 60 coins
Travel to Shilo Village and talk to Yanni Salika. Using Fairy Ring code CKR grants access to the area direct west of Shilo Village (using a Glory Amulet to Karamja and then running behind the Agility Course towards the docks and using the cart ride into Shilo Village for 10gp is faster). Be warned that although players may have completed the old version of Druidic Ritual, the new version of the quest might be required to continue One Small Favour. He is inside the antiques shop north of the river. Yanni will ask a small favour - get some red mahogany logs from a Jungle Forester, just south of the village. To leave Shilo Village go out the front gates (click 'Open metal gate') and then right click the cart and choose to search it. (Left clicking the cart merely causes the player to look at the cart.) There are aggressive medium-level Undead ones in the area of the gate and cart. Also, if you have 74 Agility, you can use the stepping stones shortcut to leave the northern area into the southern area of Shilo Village.
Go south of the village and talk to a Jungle Forester there. He/she will want a small favour for the mahogany logs. He/she will ask you to take his/her blunt hatchet to Captain Shanks to get it sharpened. (There is a drummer about half-way there to rest.)
Go due west (to the ocean) and up the ladder to talk to Captain Shanks. He will tell you to go to Port Sarim and get the hatchet sharpened yourself. Buy a ticket from him (26-42 coins), or teleport to Port Sarim any way you can (home teleport/lodestone network is recommended).
Asgarnia and Misthalin
Items needed for this part: 3 Steel Bars, Boiled Water, Empty Cup, 1 Harralander, 1 Marrentill and 2 Guam Leaves
Recommended teleports: Explorer's ring 3+ or amulet of glory, Varrock teleport, Skull Sceptre, house teleport if your house in in Taverley , Ring of Duelling or other teleport near a spirit tree to allow quick access to gnome gliders
Speak to Brian inside the battleaxe shop in Port Sarim. Apparently he is too worried about his friend to sharpen your hatchet. Make sure he takes the blunt hatchet before you leave.
Speak to Aggie, the witch in Draynor Village. She will help you, but wants a favour in return! Her apprentice, Jimmy the Chisel, has gone missing.
Go to the HAM headquarters east of Draynor Village, pick the lock on the trap door (right click for option) and climb down. Go to the south-east corner and speak to Johanhus Ulsbrecht; he will let Jimmy go if you provide him with a month's supply of chickens. He suggests talking to Fred the farmer.

Note: If you do not already have an empty cup, enter Varrock through the east gate and then go south to the tea stall. Steal a cup then go visit Horvik.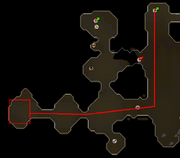 Note: There is a level 73 Big Wolf near him that may attack. There is a tree nearby you can lure him behind.
Give him the tea; he will want some special ropes known as T.R.A.S.H. (Triple Redundant Aero Super Hawsers) for the trip down to the Feldip Hills.
Kandarin
Items needed for this part: Chisel, around 2000gp (or 2 cut opals, jades and red topazes incase you crush the ones you get)
Travel to Goblin Cave just east of the Fishing Guild. Go into the cave and head north, (follow the east wall until you come to the cavern on the east. As you enter the cavern a cut scene will show you Petra) until coming to a cave to the east of where Petra is trapped in rock.

The Goblin Caves

The rock is part of the wall, between two rock piles. Right-click and select the search option on the sculpture, and you find a message telling you to speak to Wizard Cromperty.
Go to Ardougne and speak to Wizard Cromperty who is just north east of the square; his house has a blue-checked floor, on the mini-map. He needs some iron oxide from a man in Port Khazard. (There is a musician about half-way there, to rest.)
Note: Whilst you are in Ardougne, go west and pick up five pigeon cages which are just south of the north-western bank (behind the first house to the south). Remember that Horvik requested them earlier. Empty pigeon cage from the Biohazard quest works as well.
Go to Port Khazard and talk to Tindel Marchant (he is on the pier south of the Fishing Trawler). He will want his stodgy mattress stuffed for the iron oxide.
Go to the Feldip Hills (quick access available by using fairy ring code "AKS," then heading east to quest start icon) and talk to the ogre Rantz. He is on the east side of the hills. He cannot do it because there is a disturbance caused by a small man, which is scaring the chompy birds away.
Go west until you see a gnome glider with a gnome called Gnormadium Avlafrim. Talk to him and he will tell you he needs to repair the landing strip. Search each landing lights for a gem, cut it, and put it back in the landing lights. For some reason, you must go to the other side of each landing light to put the cut gem back in. The gnome can sell you a chisel at 10 coins each and spare gems at 500 coins each if you happen to crush them (so you might want to bring some jade, opal and red topaz with you, but it is not necessary). Then talk to the gnome again; he will start up the lights on the runway.
Completing the favours
Items needed for this part: Armour and pickaxe (strongly recommended for fight against Slagilith), hammer, bronze bar, iron bar, steel bar, pot, 5 pigeon cages.
Take some armour and a weapon and travel back to the Goblin Cave near the Fishing Guild, cast the spell ("Um nahi listic durooo-rah!") near Petra, and a level 92 Slagilith will appear.
If you get the message "You don´t feel that you should cast this with enemies around." just kill the bats outside of the part of the cave.
Note: If you do not kill it fast enough he will disappear and you will have to fight him all over again! For low levels: If you have a friend stand in front of you and not move while you cast the spell you can range or mage the monster without being hit.
Cast the spell again and Petra will be freed.
Note: This fight is multi-combat. All three will attack at once. Having a familiar to help fight would not hurt.
Rewards
Music unlocked
In the Manor, Grumpy, Chompy Hunt and Soundscape can be unlocked in the lands you venture to if you have not visited them beforehand, but there is no unique music for this quest
Required for completing
Completion of One Small Favour is required for the following:
Trivia
When talking to Tassie Slipcast during the quest about Hammerspike, she says "I hope that he doesn't grind your bones to make his bread!". This is a reference from the Nursery Rhyme "Fee Fie Foe Fum" from the tale "Jack and the Beanstalk".
The girl you rescue from the rock is named Petra Fiyed, a play on the word petrified, and she's only level 1, despite her being somewhat well-armed compared to lower-levelled humans.
Upon the completion of this quest, one's Adventurer's Log will read: "Offering to do 'one small favour' for Yanni Salika of Shilo led to doing the same for a forester, Captain Shanks, Brian, Aggie, Jimmy the Chisel, Farmer Fred..."
After completing the quest, if you talk to Juna, your character will say, "...I still can't believe how long that 'one small favour' took me! I ended up walking all over the world doing small favours for all and sundry!"
When asked to visit Rantz for the feathers, your character will retort that he can't hit a chompy bird at all. Your character will reply this even if you have not yet done Big Chompy Bird Hunting, or even met Rantz before at all.
If you can't find the pigeon cages, try switching worlds as sometimes they don't appear.
When asked about a sequel to One small Favour, Mod Avatar stated "You never know..." indicating that One small Favour 2 may be a future quest.