Old School RuneScape
Discuss

18
22,477pages
on this wiki

Old School RuneScape is Jagex's official term for a previous version of the Runescape game that was introduced from a backup of the Runescape source code as it had been on 10 August 2007. 
This version of the game was announced in a news post on 13 February 2013, which was followed by the opening of a poll to determine community interest on 15 February 2013. The poll, which ended 1 March 2013, decided, among other things, whether an additional membership fee would be charged for access to the game.
The poll ended at 00:00 UTC on Friday 1 March 2013. The final tally of votes was 449,351. Though 500,000 votes are needed to allow no additional membership fee, Jagex stated that the first six months of Old School RuneScape will not have any additional charge. Jagex will review this again in September; if the community is still growing and active by then, then it will remain free.
Despite it having originally been stated that servers would take one to two months to be opened following a successful poll, on 22 February 2013 as part of an Early Access scheme Jagex opened over 50 Old School RuneScape servers and gave a month of free Old School RuneScape membership credit to it to all of those who had voted in the poll. The game quickly saw player counts equalling those of the main version of the game, which has since been labeled "eoc scape" by the community in order to distinguish it.
Old School RuneScape works similarly to RuneScape Classic in that it can be played with the same account that one plays the main version of the game; yet stats, items and quests are separate and non-transferable. All players regardless of achievements in other versions of the game begin Old School RuneScape on tutorial island with a blank character. As a result, an economy and money supply has had to emerge from nothing since release.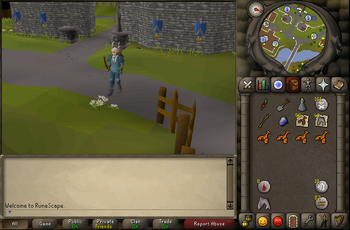 Old School RuneScape will be in four different levels, each with increasing vote requirements. The current amount of votes can be seen on the official vote page. Regardless of the outcome, any voter will get a free month of Old School RuneScape game time. Although the vote count only reached 449,351 and not 500,000, Jagex decided not to charge the additional fee of five USD for the first six months (excluding the free month).
Features
Number of votes
Level 0
Level 1
Level 2
Level 3
Level 4
0 - 49,999
50,000 - 249,999
250,000 - 499,999
500,000 - 749,999
750,000 +
Server launch?
Open to free players?
Level of on-going Development
- Small team
- Additional dedicated development team
Additional Membership Cost (approx)
- $15
- $5
- No Extra Membership fee
Level of maintenance
- Critical only
- Basic
- Weekly
Anti-bot/Anti-gold farming upgrade
Possible
Regular membership polls to decide new content
The first level requires 50,000 votes, and is the absolute minimum amount of votes required to guarantee the Old School RuneScape release.
$15 additional membership fee
No game updates or bug fixes
Critical maintenance only
The second level requires 250,000 votes.
$5 additional membership fee
No major updates, only critical bug fixes
Small development team
Possibility of modern-day anti-bot technology over time, if needed
The third level requires 500,000 votes.
Free with current membership
Some content updates, anti-bot technology added if necessary
Maintenance will be done on a regular basis
The fourth level requires 750,000 votes.
No additional membership fee. Free portion of the game will be open for everyone.
Content updates will be decided upon by regular polls.
Modern anti-bot technology added if necessary
Large development team for continuous maintenance
Features introduced
Edit
The following table shows the features that will be introduced in to OSRS. Jagex allowed other features from the 500,000 vote mark to be introduced in the game.
Features
Number of votes
Level 0
Level 1
Level 2
Level 3
Level 4
0 - 49,999
50,000 - 249,999
250,000 - 499,999
500,000 - 749,999
750,000 +
Server launch?
Open to free players?
Level of on-going Development
- Small team
- Additional dedicated
development team
Additional Membership Cost (approx)
- $15
- $5
- No Extra
Membership fee***
Level of maintenance
- Critical only
- Basic
- Weekly
Anti-bot/Anti-gold farming upgrade
Possible
Regular membership polls to decide new content
*** Only for six months. Jagex will review this again in September and if the server is still active and growing then it will remain free
Differences between Old School & the live game
Edit
Old School has 2007 combat with special attacks instead of the 2012 Evolution of Combat style.
Graphics are pre HD era with no full screen mode or resizeable mode and many reworks not included.
The latest quest is King's Ransom. More than fifty quests are not in Old School. A full list can be seen here
The Grand Exchange and microtransactions are not present in this version of the game
The strongest monster is TzTok-Jad, instead of the Kalphite King. Other high level monsters are also not present, including the Queen Black Dragon, Corporeal Beast, Glacors, Tormented demons, Sunfreet, Dungoneering bosses or any God Wars Dungeon boss or minion
There is no Summoning or Dungeoneering skill
Minigames that do not exist include Player Owned Ports, Flash Powder Factory,Fight Kiln, Fight Cauldron, Dominion Tower, Soul Wars, Conquest, Fist of Guthix, Clan Wars, Crucible, Mobilising Armies, Vinesweeper, All Fired up, Stealing Creation, The Great Orb Project, and Runespan
The following other activities are also not present: Herblore Habitat, Jadinko Lair, Living Rock Caverns, Lava Flow Mine, Livid Farm, and Sawmill Training
Distractions and Diversions do not exist officially, however some that were later given this title exist. The following do not exist in Old School: Penguin Hide and Seek, Ancient Effigies, Balthazar Beauregard's Big Top Bonanza, Big Chinchompa, Court Cases, Demon Flash Mobs, Evil Tree, Familiarisation, Fish Flingers, Goblin Raids, God Statues, Phoenix Lair, Shattered Heart, Shooting Star, Sinkholes, Troll Invasion, The Pit, and Wilderness Warbands
When Old School RuneScape was initially released, uncleaned herbs were grimy even though on the 10th of August 2007, uncleaned herbs were still unidentified. This was intentionally done by Jagex to prevent players from scamming. Unidentified herbs were reinstated on the 25 February 2013.
On Day 1, the Old School Servers hit 50k online players after being up for only 4 hours. During peak times, player count has been seen to rise up to 66,708. However, during offpeak, the count has dwindled to as low as 8,769. The current highest peak player number was obtained on 17 March 2013. The current lowest players was on the 25 April 2013.
There is a tracker up that is tracking the online player numbers of both games, which can be seen here [1]
External links
Edit