Ogre bow
Discuss

4
22,476pages
on this wiki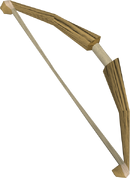 The Ogre bow is one of two bows that can use ogre arrows. The other bow is the comp ogre bow which can also use brutal arrows.
The ogre bow is obtained from Rantz during the Big Chompy Bird Hunting quest. If you lose it, you may buy another from him for an amount which changes each time, but is in the range of 500-550 coins. You will also need this bow for Freeing Skrach Uglogwee in the Recipe for Disaster chain.
The ogre bow requires a Ranged level of 30 or higher to wield. Its damage and accuracy bonuses are identical to the maple shortbow's, though it also provides a life point boost akin to the maple shieldbow. It also fires at the same speed as the latter. This bow is also a massive improvement over its composite counterpart, as the damage bonus is over four times greater and the life point bonus does not exist with the other bow.
Regular Ogre bows cannot be made using the Fletching skill; Comp ogre bow can be made with level 30 Fletching.
This bow cannot be used for making barbarian firemaking of any sort.
Combat Stats

| Class | Slot |
| --- | --- |
| Ranged | |

Weapons
Main
Off
Damage
382
-
Accuracy
454
-
Type
Arrow
-
Attributes
Armour rating

0

Life bonus

+450

Prayer bonus

0

Critical bonuses

0%

0%

0%

Attack speed

Average

Interval: 3.6 seconds

Compare item

A player wielding an ogre bow

[view] • [talk]
When trying to light a barbarian fire with this bow it says: "This bow is vast, clumsy and most of a tree. You realise that this type of bow is useless for firelighting." The same message appears for the comp ogre bow.
The Ogre bow cannot be fletched and can only fire ogre arrows .
Robert the Strong appears to wielding an ogre bow.
Shortbows

Shortbow (u) • Oak shortbow (u) • Willow shortbow (u) • Maple shortbow (u) • Yew shortbow (u) • Magic shortbow (u) • Quickbow

Shieldbows

Shieldbow (u) • Oak shieldbow (u) • Willow shieldbow (u) • Maple shieldbow (u) (sighted)• Yew shieldbow (u)• Magic shieldbow (u) (sighted)

Composite bows

Willow composite • Ogre comp • Yew composite • Magic composite

Special bows

Training • Chargebow • Kayle's chargebow • Barbed bow • Sacred clay • Ogre • Ogre comp • Gravite shortbow • Seercull • Dark • Crystal • Zaryte

Crossbows

Bronze crossbow • Blurite crossbow • Iron crossbow • Steel crossbow • Black crossbow • Mith crossbow • Adamant crossbow • Rune crossbow • Dragon crossbow • Armadyl crossbow • Chaotic crossbow•Royal crossbow

Javelins

Bronze javelin • Iron javelin • Steel javelin • Mithril javelin • Adamant javelin • Rune javelin

Throwing axes

Bronze throwing axe • Iron throwing axe • Steel throwing axe • Mithril throwing axe • Adamant throwing axe • Rune throwing axe

Other items

Cannon • Snowball • Chinchompa • Red chinchompa • Holy water • Hand cannon • Arrows • Sagaie • Bolas