Ogleroot
Discuss

5
22,498pages
on this wiki
This item should not be confused with shrunk ogleroot, a second ingredient for the shrink-me-quick potion.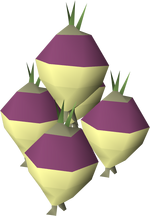 Ogleroots are bought from Farmer Blinkin in the Vinesweeper minigame, by right-clicking Farmer Blinkin. They can also be found while digging with a spade in the same activity. Ogleroots are fed to rabbits to make the rabbits disappear, stopping the rabbits from eating the seeds that are found. When ogleroots are fed to the rabbits, players will receive 30 Hunter experience points. Players cannot take ogleroots out of the activity area, but players will be given 10 coins per ogleroot when they leave. Recently however, some players discovered a glitch allowing ogleroots to be taken out of the activity. It was then discovered that ogleroots have a guide price of 10 coins each when put in the Price-checker, and that they cannot be banked. The ogleroot is so odd that your player will not eat it when the eat option is selected. Recently the eat option was removed which shows Jagex is aware of this glitch.
There were multiple bugs that existed which allowed players to smuggle ogleroots, but these bugs have been removed by Jagex.