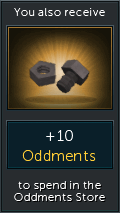 Oddments is a Treasure Hunter promotion originally released in August 2017. In it oddments are rewarded with each regular prize, and cash-out to coins is replaced by conversion to oddments. In addition, all lamps and stars are changed into prismatic variants.
Available prizes
Edit
Oddments Store
Edit
Release history
Edit
Ad blocker interference detected!
Wikia is a free-to-use site that makes money from advertising. We have a modified experience for viewers using ad blockers

Wikia is not accessible if you've made further modifications. Remove the custom ad blocker rule(s) and the page will load as expected.