Ochre Blamish Snail
Release
14 October 2004 (Update)
Members
Yes
Examine
A muddy coloured blamish snail, these types are said to spit acid.
Combat info
Level
LP
XP
XP
14
500
32.1
10.5
Equipment XP (2H/MH & Armour/OH)
1 / 1 / 0
Aggressive
Poisonous
Offensive
Max hit
50
0
0
0
Style
Speed

5 ticks (3.0s)

Combat levels
Defensive
Armour
Weakness
202
10
Affinities
90
55
45
65
Immunities
[FAQ] • [doc]
The ochre blamish snail is a common snail which lives in the Mort Myre Swamp. Their attacks deal Ranged damage despite having a similar animation to Curse, and can only be used in melee range. They appear to have a max hit of 1, despite what is stated by Monster Examine.
This type of snail drops two items upon its death; a Blamish ochre shell and a Thin snail (used at level 13 Summoning). A chisel can be used on the dropped shell to make an ochre snelm.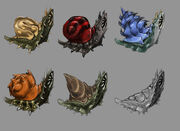 100% drops
Edit
Main drop
Edit
Universal drops
Edit
Universal drops are dropped by nearly every monster outside of Daemonheim.
These drops are dropped alongside main drops.
| | Item | Quantity | Rarity | GE price |
| --- | --- | --- | --- | --- |
| | Key token | 1 | Rare | Not sold |
Ad blocker interference detected!
Wikia is a free-to-use site that makes money from advertising. We have a modified experience for viewers using ad blockers

Wikia is not accessible if you've made further modifications. Remove the custom ad blocker rule(s) and the page will load as expected.