Walkthrough
Edit
Getting started
Edit
Obtaining a Lens
Edit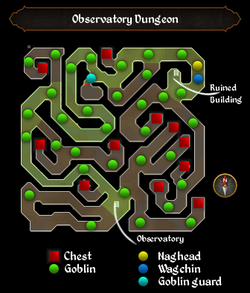 Leave the house and go East to the abandoned buildings.
Climb down the stairs in the Western building.
Every dead end will have a chest that must be searched until a Goblin kitchen key is found in one of them.

On the interface make sure to click "Click here to continue" or the key will not be found.

Go back to the staircase at the entrance, but do not exit the dungeon.
Go East, then North, and then head West until a guard is seen guarding a kitchen.
Kill him or lure him away from the kitchen.
Inspect the stove in the kitchen.
Talk to the professor.
Use the molten glass on the Lens mould.
Talk to the professor again.
Finishing Up
Edit
Go back to the abandoned building and climb down the stairs.
Climb the stairs to the observatory, as indicated on the map.
Talk to the professor.
Watch the cutscene and talk to him again.
Look through the telescope and tell him which constellation is seen.
Quest complete!
NPCs
Items
Locations
Music
Miscellaneous
Quick guide • Transcript
Ad blocker interference detected!
Wikia is a free-to-use site that makes money from advertising. We have a modified experience for viewers using ad blockers

Wikia is not accessible if you've made further modifications. Remove the custom ad blocker rule(s) and the page will load as expected.