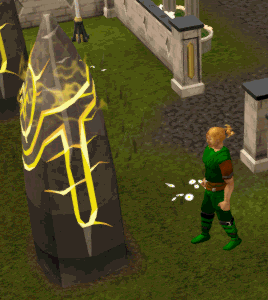 The Summoning plot is a feature in the Clan Citadels which is unlocked when the citadel reaches tier 5. It is used to gather Minions. You need nothing to train on it, but only 10% (1/10) of the player's weekly resource cap may be expended upon it. After an update, the experience awarded is increased greatly, making it a reasonably fast and free training method.
By finding the glowing pillar and selecting it you will generate a field that lifts the tumbled stones in the centre of the obelisk to form a portal. After a while, a minion will step from the portal, look around, and then vanish to do your bidding.
One unit of minions count for one unit of any other resource, except for metal bars and precious metal bars, for which three units of minions count for one unit of those, so each minion created helps towards your citadel's maintenance.
While only 10% of the cap could be used on minions, summoning is not interrupted when you reach the cap, allowing you to gather around 10 more units if you just started on a new active obelisk at that point.
Tier
Upkeep
Upgrade
Timber
Stone
Metal bars
Precious bars
Cloth
Rations
Timber
Stone
Metal bars
Precious bars
Cloth
Rations
1
12
12
3
3
250
250
60
60
2
11
11
3
3
9
270
270
70
70
225
3
10
10
3
3
10
300
300
100
100
300
4
14
14
4
4
14
550
550
200
200
550
5
14
14
5
5
14
600
600
250
250
600
6
12
12
5
5
21
105
600
600
250
250
600
1200
7
16
16
5
5
16
16
1790
1790
560
560
1790
1790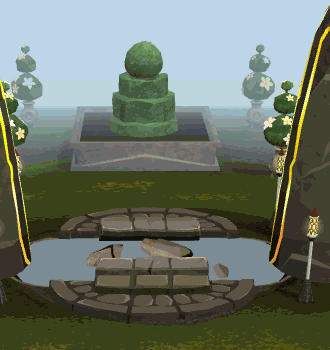 Experience
Edit
Experience per action
Level
XP
 
Level
XP
 
Level
XP
 
Level
XP
1
4
26
20
51
45
76
78.5
2
4.5
27
21
52
46
77
80
3
5
28
22
53
47
78
81.5
4
5.5
29
23
54
48
79
83
5
6
30
24
55
49
80
85
6
6.5
31
25
56
50
81
87
7
7
32
26
57
51
82
89
8
7.5
33
27
58
52
83
91
9
8
34
28
59
53
84
93
10
8.5
35
29
60
54.5
85
95
11
9
36
30
61
56
86
97
12
9.5
37
31
62
57.5
87
99
13
10
38
32
63
59
88
101
14
10.5
39
33
64
60.5
89
103
15
11
40
34
65
62
90
105
16
11.5
41
35
66
63.5
91
107
17
12
42
36
67
65
92
109
18
12.5
43
37
68
66.5
93
111
19
13
44
38
69
68
94
113
20
14
45
39
70
69.5
95
115
21
15
46
40
71
71
96
117
22
16
47
41
72
72.5
97
119
23
17
48
42
73
74
98
121
24
18
49
43
74
75.5
99
123
25
19
50
44
75
77
Skill plots
Resources
Buildings and features
Customisation and costs
Other