Oaknock the Engineer is one of the gnomes' great heroes of their golden age. He developed numerous great technologies, many of which have been forgotten. Players first learn of Oaknock during the quest, The Eyes of Glouphrie. Oaknock died several hundred years before the current date of RuneScape. He had a son called Yewnock.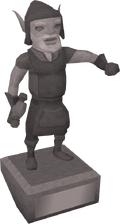 Ad blocker interference detected!
Wikia is a free-to-use site that makes money from advertising. We have a modified experience for viewers using ad blockers

Wikia is not accessible if you've made further modifications. Remove the custom ad blocker rule(s) and the page will load as expected.