Oak larder
Discuss

3
22,514pages
on this wiki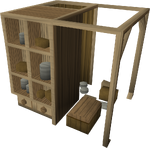 The
Oak larder
is a piece of
furniture
that can be built in the
kitchen
(which must first be built before an Oak larder can be made) of a
player-owned house
with the
Construction
skill. Players can withdraw
tea leaves
,
buckets of milk
,
eggs
, and
pots of flour
from this larder.
Building an oak larder requires at least 33 Construction, 8 Oak planks, a hammer and a saw. Building oak larders is a good way to train Construction, for the large amount of experience they give, and they do not require nails or bolts of cloth. Oak larders give 480 experience normally and 960 experience with a Sacred clay hammer. Constructing oak larders works best with the use of a servant (cook or better).
Many players build oak larders as it is very fast experience and it only requires oak planks.
Oak larders are often built using the Sacred clay hammer obtained from the activity Stealing Creation; these double the amount of experience and save money. At current Grand Exchange prices, it costs 4,472 coins to build an Oak larder. This is 9.32 coins/XP (without a Sacred clay hammer).
Players can withdraw all the ingredients required for making cakes, and then withdraw a cake tin from a kitchen shelve (Wooden shelves 3 or better), and then cook cakes for Cooking experience, if they have a steel range or fancy range.
Beer barrels

Beer • Cider • Asgarnian ale • Greenman's ale • Dragon bitter • Chef's delight

Tables
Stoves

Firepit • Firepit with hook • Firepit with pot • Small oven • Large oven • Steel range • Fancy range

Larders
Shelves
Sinks
Cat baskets