Nyriki Tapio is a gnome hunter hosting the Big Chinchompa Distraction and Diversion. He goes after the enormous plutonial chinchompa and has bypassing adventurers use moths to feed it to sleep, rewarding them for the process. His wife Mieliki has a shop in their treehouse in the Tree Gnome Stronghold with portals leading to Nyriki and his private hunting grounds. Mieliki sells coupons for access to these grounds.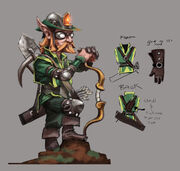 Ad blocker interference detected!
Wikia is a free-to-use site that makes money from advertising. We have a modified experience for viewers using ad blockers

Wikia is not accessible if you've made further modifications. Remove the custom ad blocker rule(s) and the page will load as expected.