Noticeboard
Discuss

5
22,477pages
on this wiki
"Noticeboard" redirects here. For the noticeboards commonly found in banks, see
Noticeboard (Bank)
.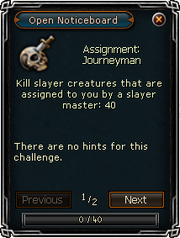 The Noticeboard is an overview of all Daily Challenges, Quests, Achievements and Minigames, where you can keep track of all tasks you are currently working on. This board will also show Featured content, which include the latest content updates to the game, your current Daily challenges, and a quick link to your quest list. Accessing the Noticeboard can be done by clicking the tab, second from the left on your in-game screen.
Noticeboard
Edit
Featured Content
Edit
The Featured Content tab on the Noticeboard is a simple overview of the most important items to be found there, your current Daily Challenge and Runescape's latest Content update. Clicking any of the four buttons will send you to the page that is linked to it who will give more information about that subject.
Challenges
Edit
The Challenges tab on the Noticeboard holds information about all challenges that can be done and also your Daily Challenges. Challenges are quick, mostly simple tasks to be performed around Gielinor for you to gain experience in the various Skills of RuneScape.
The Challenges that will be assigned to you as Daily Challenges are the ones most appropriate for you, considering your levels and quest progression. You can have up to 5 Daily Challenges at once, and will be assigned a new one every day. (If you don't complete a challenge within it's given time, it will disappear and be replaced with another one).
You can select from a dropdown menu what tasks you want to be shown, either Recommended, Daily or challenges in a certain skill. Recommended tasks are the ones you should do with your current levels and quest progression. Daily tasks are tasks you are assigned to do for a given day. Up to 5 tasks are displayed here at once. (These tasks are the ones you can do for rewards, non-daily challenges aren't rewarding) If you pick any of the skills it will show a list of all tasks that can be given for that particular skill.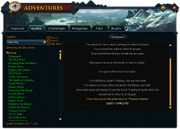 The Quests tab lists all Quests that are available, completed, or not started yet by you. Quests shown in a red color are ones that you haven't started yet, quests shown in yellow are currently in progress, and green names indicate completed quests.
You can sort the quest list by Free/Members quests, Progress (Completed, In progress and not started yet), by their difficulty and in a alphabetical order. You can also filter the list to only show quests you can start and complete with your current stats and levels by ticking the box on the top right of this Noticeboard tab.
Furthermore you can also ask for details on a certain quest by clicking its name in the quest list. This will then show a screen with level requirements, items needed etc. for that particular quest. Note: Some quests will only show a quest journal, not requirements and needed items.
Achievements
Edit
Achievements are area-related tasks that need to be performed to earn you a piece of armour with certain abilities.
The achievements tab will show you an overview of all achievements that can be completed sorted by the location they are in. Select an area to view the tasks from in the top left corner and the tasks of that area will show up.
Completed tasks will show a little checkmark next to their icons. Tasks that you can't do yet with your levels will show a lock icon. You can hover over, or click an icon to see more details about a task.
There are several degrees in difficulty for tasks: Beginner(Blue), Easy(Green), Medium(Red), Hard(White) and Elite(Purple). If all of the tasks of a certain difficulty within an area have been completed a new version of the armourpiece of that area can be claimed.
Minigames
Edit
The Minigames tab shows all members' minigames that you can access. Clicking any of the names of minigames will give you more information about them.
It is also possible to teleport to the Lodestone closest to that minigame by clicking the "Take Me There" button.
Control panel

| | |
| --- | --- |
| Top | Combat styles • Tasks • Stats (Target System) • Quest List(Quest Overview) • Inventory (Money pouch) • Worn Equipment (Equipment Stats) (Items Kept on Death) (Toolbelt) (Customisation) • Prayer screen • Spellbook |
| Bottom | Extras (Squeal of Fortune) • (Solomon's General Store) • (Customisation) • Friends List (Ignore List) • Friends Chat • Clan Chat • Options • Emotes • Music Player • Notes |

Minimap

Logout button • Advisor system • Compass • XP Counter • World map • Constitution Status Globe • Prayer Status Globe • Energy Status Globe • Summoning Status Globe • Money Pouch Globe (Price Checker)

Other

Assist System • Chat (Quick Chat)(Spam filter)(News) • Choose Option • Developer console • Game controls • Main Menu • Make-X • Trading interface