North Ardougne Teleport
Release date
4 April 2011 (Update)
Members?
Yes
Level
76
Spellbook
Lunar
Type
Teleport
Experience

76

Runes
125
Quest
Lunar Diplomacy

Click animation for full size
[view] • [talk]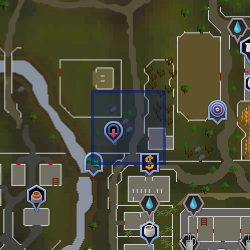 North Ardougne Teleport is a Lunar spell released with Livid Farm. This spell teleports the caster to the end of the pathway found north of East Ardougne's bank. It is unlocked by accumulating 110,000 produce points in the Livid Farm. This teleport location is one of the closest to a bank on the lunar spell book, adding to its value as a spell.
Due to the Livid Farm contribution required to unlock it, and also the Ardougne lodestone and Ardougne cloak 4 providing unlimited free teleportation to the nearby area, this spell is rarely used.
This spell originally teleported the player to the Ardougne allotment patch.
Input
Cost
512

1,306

Combo runes
125

5,046

125

4,811

125

4,101

Staves
12

1,176

12

1,176

12

1,176

12

1,176
Ad blocker interference detected!
Wikia is a free-to-use site that makes money from advertising. We have a modified experience for viewers using ad blockers

Wikia is not accessible if you've made further modifications. Remove the custom ad blocker rule(s) and the page will load as expected.