Ad blocker interference detected!
Wikia is a free-to-use site that makes money from advertising. We have a modified experience for viewers using ad blockers

Wikia is not accessible if you've made further modifications. Remove the custom ad blocker rule(s) and the page will load as expected.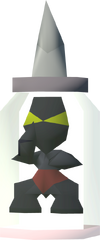 The Ninja impling jar is the result of successfully catching a Ninja impling, while also having an empty impling jar.
If a player catches an impling without an empty impling jar, they would automatically receive the loot instead.
This jar can be traded in singularly to Elnock Inquisitor for 3 empty impling jars, but this is not recommended due to its high value, and as any impling jar may be traded for 3 empty jars, including low level ones.
If a player attempts to cast analyse or disassemble on this item, they will get the message You monster! You can't disassemble a living thing.
Item
Price
Profit (if buying then looting jars)[1][2]
Black dragonhides (6, 10, 16, or 30)
6:

22,164




10: 36,940
16: 59,104
30: 110,820


6:

-2,376




10: 12,400
16: 34,564
30: 86,280


Dagannoth hides (3 noted)

10,302

-14,238

Dragon dagger

16,934

-7,606

Onyx bolts (2)

15,458

-9,082

Onyx bolt tips (4)

28,236

3,696

Mystic boots (blue)

8,935

-15,605

Mystic gloves (blue)

7,639

-16,901

Opal machete

461

-24,079

Prayer potions (4 noted, 3 dose)

9,904

-14,636

Rune arrows (70)

10,640

-13,900

Rune chainbody

28,711

4,171

Rune claw

19,501

-5,039

Rune darts (70)

16,870

-7,670

Rune scimitar

14,885

-9,655

Rune throwing knives (40, 80)
40:

87,680




80: 175,360


40:

63,140




80: 150,820


Rune throwing axe (50)

46,700

22,160

Rune warhammer

25,036

496

Snakeskin boots

5,648

-18,892

Splitbark helm

4,761

-19,779

Weapon poison+ (4)

11,268

-13,272

Weapon poison

303

-24,237