Nex/Strategies
Discuss

5
22,529pages
on this wiki
The following lists several strategies and methods for fighting Nex and her minions. For the monster, see Nex.
Nex is the second strongest boss in all of RuneScape being tied with the Queen Black Dragon and only surpassed by the Kalphite King. If you want to defeat her, it's important that you're properly prepared. This article will explain the strategies players usually use when fighting her.
Note: It is strongly recommended that you fight Nex with a team. You can find a team at the official RuneScape Forums, in the Teamwork section. Without taking advantage of unintended game mechanics, using drygore weapons, or some impractical tactics it is considered impossible to solo Nex.
Preparation
Edit
Getting there
Edit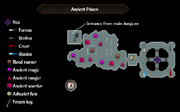 Nex resides in the
Ancient Prison
. See the main article for information on how to get there. After the main room of the Zaros stronghold (where you can kill monsters to increase your killcount), but before Nex, there is a safe room with a
bank
. This bank is accessed via the nature spirit
Ashuelot Reis
. This room functions like a safe area where players can't be attacked and can refill on supplies before fighting Nex. There is no
altar
within the boss chamber, and the only way out of that chamber is to
teleport
or be
slain
. Once your team is ready for the fight, go down the slope to enter the room.
Equipment
Edit
You won't last long against Nex if you don't have the right equipment. This is a list of recommended equipment.
Melee Solo/Duo/Trio teams
Edit
Virtus/Gano Teams
Edit
Void Teams
Edit
For both teams
Edit

Minimum (Recommended) Levels
85+ Magic and 90+ Defence
67+ Summoning
70+ Prayer

High Levels
90+ Attack and Strength (if meleeing)
90+ Ranging (if ranging)
90+ Magic
90+ Defence
96+ Herblore for Overloads (91 with boosts)
96 Summoning (Yak and Unicorn)
Ranged Duo (out of date)
Ranged Solo (out of date)
Battle overview
Edit
The battle against Nex is fought in a circular room that resembles the symbol of Zaros. Nex moves very quickly; she can jump across the room in 2 ticks, as well as being able to leap across the holes. The battle has five phases: Smoke, Shadow, Blood, Ice and a final (Zaros) phase. There are 4 level 165 mages in the four corners of the room. These mages are Fumus, Umbra, Cruor, and Glacies, and they represent the four elements of the Ancient Magicks spellbook used in the first four phases. They are weak against bolts.
During the fight, Nex uses Ancient Magicks rush spells of the same type as the mage of that phase. Nex also has regular melee attacks that hit up to around 1500. Every time a fifth of her health has been taken away, one of her mages will become vulnerable; at this point, Nex will say "[mage name], don't fail me!". Once that mage is killed, the next phase will begin.
The phases
Edit
This section lists all the different attacks Nex will use. See below for what players should do in the different phases.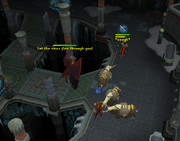 Smoke phase:
During this phase, she will use
Smoke spells
which deal over 250 damage through prayer and
poison
for 88 damage. Her special attacks in this phase are:
"Let the virus flow through you!" - Damages, lowers combat stats, drains prayer points (2 per second), and spreads between adjacent players.
"There is... NO ESCAPE!" - Nex will teleport and fly through one of the paths of the central symbol, damaging players who stand in her way for up to 3000 and disabling their protection prayers.
Dragging a player - Draws a player to the central crossway, disabling prayer and stunning them for a short period of time.
​After she reaches 4/5th of her life points and her mage Fumus is killed, she will go to the next phase.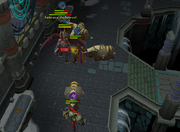 Shadow phase:
During this phase, she will use
Shadow spells
, which are in fact ranged attacks. This is the only phase in which she uses Ranged. Her special attacks in this phase are:
"Fear the shadow!" - Shadow traps will appear under every player in the area. After 3 ticks, any player still standing on them will be hit for up to 4000 damage.
"Embrace darkness!" - The room will be darkened drastically. The closer you are to Nex, the darker the room will be. If you stand next to Nex, you will take constant damage.
​After she reaches 3/5th of her life points and her mage Umbra is killed, she will go to the next phase.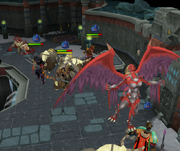 Blood phase:
During this phase, she will use
Blood spells
which will heal her. Her special attacks in this phase are:
"A siphon will solve this!" - Nex will summon up to three blood reavers and kneel down for about 8 ticks. During this, all damage she receives instead heals her, shown by purple hit splats. Any blood reavers from the previous siphon will instantly die, and Nex will be healed by however many lifepoints they had remaining (up to 3030).
"I demand a blood sacrifice!" - Nex will target a player, who will glow red. If (s)he does not move away from Nex in time, she will cast blood barrage on everyone, halving prayer points and healing herself.
​After she reaches 2/5th of her life points and her mage Cruor is killed, she will go to the next phase. Note if she has blood reavers sacrificed before she says this, her health must be damaged before killing Cruor.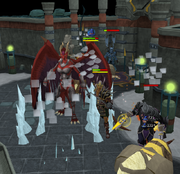 Ice phase:
During this phase, she will use
Ice spells
which will target all players, freeze them and lower prayer points. Her special attacks in this phase are:
"Die now, in a prison of ice!" - Nex freezes a targeted player using an ice stalagmite attack. When the ice recedes, the trapped player will be hit for 5000+ damage. However, it is possible to use the ability freedom and eat or break the icicles and for other players to destroy the icicles that make up the prison, allowing the trapped player to avoid damage.
"Contain this!" - Nex creates a barrier of ice (four by four squares) around her. Getting caught in this can result in up to 3000 life points of damage and it will disable your prayer for a short period.
​After she reaches 1/5th of her life points and her mage Glacies is killed, she will go to the last phase.

Final phase: During this phase, she will only use her normal magic and melee attacks. However, they will become far more accurate and powerful, hitting massive (2000) damage even through prayer. She will cycle between using Soul Split, Deflect Melee and no overhead prayer.
"NOW, THE POWER OF ZAROS!" - At the start of this phase, Nex will heal to 2/5th of her life points (she heals 30,000 turning it to 60,000) and activate Turmoil, giving her greater Attack, Strength, and Defence and lowering those stats from all players.
"Taste my wrath!" - Upon death, Nex will activate Wrath, dealing damage to all nearby players. Her version of Wrath has a larger radius than that of players, but it has a longer activation time.
​Killing tactics
Edit
Note: If you stand on Nex for too long, you will take constant hits of 100, your overload timer will be sped up, and your stats will be drained.
Smoke phase: Before Nex spawns, stand behind the north west pillar; if you are the tank stand in the entrance to the west pathway to the center. When she spawns her minions, start building adrenaline from Fumus. When Nex has finished spawning minions, the tank should attack her and take the cough, then run south to pull Nex out of the middle and into the outer ring in front of the entrance. The remaining members of the team should now attack, using freedom when they are pulled.
"Let the virus flow through you." - If you get the virus, don't run as this can spread the cough to other team members.
"There is... NO ESCAPE!" - This attack can be completely avoided if you don't stand in her path. If the tactics are performed properly she will only move during this attack, and then fly back into the original spot.
When Nex says "Fumus, don't fail me!", run over to kill Fumus with your range weapon in the north west corner. DD (everyone on the team stands on the same square) exactly 2 spaces south-east of Fumus's spawn spot. It's possible Nex will fly towards you and then back to the middle of the room again, delaying her attacks significantly. If you do this fast enough Nex will not use Smoke Barrage again. Once Fumus is dead, you can step away from your team-mates to let the virus dissipate.
Shadow phase: The damage from her shadow attacks (excluding the shadow traps from "Fear the shadow!") is based upon whether you have ranged pray active or not (300 or 1500 maximum) Therefore, it is recommended to pray range at all times. Spread out around Nex to prevent constant heavy damage.
"Fear the shadow!" - When a trap appears under you, take a few steps away from where you're standing. Don't wildly run away; shadow traps from other players will harm you if you step on them. The traps are normally laid after every 4 of Nex's shadow attacks. However, the "Embrace darkness!" attack is always accompanied by shadow traps.
"Embrace darkness!" - You'll only take constant damage if you're in Nex's melee range. Don't stand too close to her.
Once the phase is finished and Nex says "Umbra, don't fail me!", the player Nex is targeting should lure her over to the boss chamber entrance. Switch to your range action bar and weapon and kill Umbra. When Umbra is dead, the player should hit her once (known as tagging, people in the friends chat will say "Tag" or "T") when she is near the entrance.
Blood phase: Turn Protect from Magic back on. If you haven't done so yet, lure Nex over to the entrance to the chamber. This will cause fewer reavers to spawn, and they will spawn closer to the players. You should switch to your chaotic maul or two handed staff to increase your damage on this phase or you will find it almost impossible to pass. Using Melee or a two handed staff is extremely important, everyone even the tank should be doing this. Do not use damage over time abilities such as dismember, combust, and Massacre, as all damage over time abilities cause Nex to heal on this phase. During this phase, in small teams or soloers the use of Berserk and drygore weaponry is an absolute must to override the healing effects from the reavers, otherwise the phase will basically start over again.
"A siphon will solve this!" - Stop attacking Nex; Tag (hit once) the reavers. Nex uses her siphon after every 5th attack after she calls a blood sacrifice. It's easy to recognise this attack; she will stop attacking and say "A siphon will solve this!", you'll see purple hitsplats on her. Nex usually spawns 1 or 2 blood reavers (if you're on the west side of the chamber, she might on rare occasions not spawn any reavers) when siphoning. During each siphon, attack the reavers 1-2 times (referred to as tagging reavers). It is essential to at least damage the reavers greatly as all their remaining health will be conferred to Nex during her next siphon. Leaving all reavers alive with full hitpoints results in the same phase with health equal or greater then the start of this phase.
"I demand a blood sacrifice!" - Don't run. You have to stay in melee distance; ignore the warning in the chatbox. She will use Blood Barrage on all players, healing herself and halving everybody's prayer points. It is crucial for players to keep their prayer points as low as possible during this phase so as to not waste potions unnecessarily.
After the barrier is down, kill Cruor with your ranged weapon and action bar in the south-east corner. Make sure you spread out from other players now to minimize the amount Nex will heal.
After the 5 September 2012 update, the time inbetween siphons has been drastically decreased, and Nex heals more from reavers . It is not recommended to go to Nex with less than a 4 man team. Tagging reavers is an absolute must.

Ice phase: In this stage, Nex's Ice Rush attacks drain the prayer points of everyone hit by 1/4 of the damage dealt (similar to Smite). While attacking her, keep Protect from Magic on at all times, otherwise you will be likely to get frozen for a long period of time.
"Contain this!" - Step back if you're close to Nex. This attack causes instant damage and removes protection prayers from players in melee distance, players out of melee distance should run from Nex if they see little icicles moving across the floor from Nex towards them to avoid a prayer drop and heavy damage. Reactivate prayer ASAP and resume attacking Nex.
​"Die now, in a prison of ice!" - A single player will be trapped in an icicle cage - they can be easily identified by their prayer deactivating. If a team-mate is trapped, break the icicles. If you're trapped perform this in order, use freedom, heal yourself to above 7000 health, attempt to break yourself out, and turn your prayer back on. Alternatively, you can use a shield with the use of Freedom, Resonance or Barricade to avoid or heal from her melee attack. The icicles are unblockable, and her melee attack deals heavy damage, which resonance can use to counter the icicles.
Once the barrier is gone, kill Glacies with range in the southwest corner. Watch out for Glacies freezing you; he can do this through Protect from Magic and leave you open to be hit by "Contain This!".
Final phase: Once Glacies has been killed, get within melee distance of Nex. Nex returns to using Smoke spells during this phase, though with their poisoning ability negated. Because Nex sometimes uses Deflect Melee during this phase,Mage attacks are recommended for this final phase (Mage is used for all phases, except during the blood phase and on minions where melee and range should be used respectivly). She will switch between Deflect Melee and Soul Split as well as Deflect Range throughout this stage. You should use protect/deflect melee if you are tanking, otherwise use Protect/deflect from Magic. If tanking, be prepared to take 4000+ damage everytime Nex mages, and it may be worth praying mage even if tanking to avoid this. You may also want to use abilities like Anticpation and Debiltate, with a correct prayer as it will greatly reduce damage from her attacks. Debiltate reduces 50% damage from her attacks, and Anticipate reduces it by 10%, bringing the attack you are not praying against reduced to 60%, and the one you are praying against by 110%.
It is important to note that during the final phase, Nex will heal 30,000 lifepoints (bringing her up to 60,000).
"Taste my wrath!" - Upon death Nex will use Wrath, so players are advised to quickly move away from Nex to avoid damage. You'll easily have time to move out of this.