This article has a related strategy guide
here
.
Nex
Release date
10 January 2011 (Update)
Members?
Yes
Combat level
1001
XP per kill
19,480 (and 6,428.4 experience)
Always drops
Big bones
Examine text
Even the gods fear it.

Combat info
LP
Max hit
200,000
2,200 (2,700+) Melee - 2,400 Ranged - 2,500 (5,000) Magic - 5,500+ NO ESCAPE! 1,100 Blood Sacrifice - 6,500 Shadow Trap - 2,400 Contain This! - 8,000 Ice Prison - (Increased magic damage and accuracy last Phase, drains melee from you)
Attack
Defence
Ranged
Magic
80
80
80
80
Immune to Poison?
Immune to Stun?
Yes
Yes
Attack Speed

Speed 6 (Interval: 2.4 seconds)

Aggressive?
Poisonous?
Yes
Yes
Attack styles
Weakness
Magic
Melee
Ranged

Nothing

[view]

Nex (coming from the Infernal word for "murder" or "death") is a powerful Zarosian general. She is a Zaryte from the plane Freneskae. She is located in the Ancient Prison, sealed away in the back of the God Wars Dungeon. With a combat level of 1001, she ranks amongst the most powerful monsters in RuneScape.
Nex is an immensely powerful entity and is one of Zaros' most powerful weapons of war. Along with Azzanadra and formerly Zamorak, she is one of Zaros' most powerful generals.
Slaying Nex does not count toward a Nihil task, likewise a kill does not count toward the "God Wars - Like a Boss" daily challenge.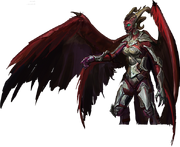 In Zaros's quest to recruit mortal races, he made a promise to the Dragon Riders to solve their infertility crisis. In order to do this, he returned to Freneskae to harvest Mah's elder energy and manipulate life. Zaros considered his creations a failure. Although the proper name for these life forms is Zarytes, Zaros called them nihil as they meant "nothing to him."
One of the nihil, although originally shunned by the others, outgrew and outwitted the rest. It was for this reason that Zaros implanted a sliver of his being into the nihil and granted it sentience. This nihil as she came to call herself was Nex.
Following Zaros's downfall in the Second Age, a group of Zarosians were working to secure the area around the Mahjarrat ritual site to gain the upper hand. The leader of these Zarosians was Nex. Gaining power whenever she battled, Nex was considered unstoppable. Despite her immense strength, the forces of Saradomin were eventually able to imprison Nex and the powerful Zarosian army around the beginning of the Third Age. With much effort and sacrifice, the Saradominists managed to lead Nex and her army into a large ice cavern, where they enchanted them into a frozen sleep. Afterwards, the Saradominist forces built the Temple of Lost Ancients around it, ending the Battle for the Ritual Site.
Nearly a thousand years later a flock of aviantese transporting a newly created Godsword were ambushed by an army of demons as they passed through the mountains of Trollheim. Outnumbered, the aviantese were forced to retreat, into the temple. Each of the gods — Armadyl, Bandos, Saradomin, Zamorak — sent combatants to this temple, beginning the battle for the godsword.
Years after these God Wars began, Saradominist priests (one of whom was Ashuelot Reis) were approached by a mysterious figure who spoke of Guthix. This entity taught them that Guthix was the only god who could end the chaos and stop the war. The priests abandoned the cause of Saradomin and became followers of Guthix. Their new leader taught them the ways of druids which included an ancient ritual that supposedly had the power to awaken Guthix itself. The priests and their leader performed the ritual, but the result was not what they had expected; the priests had accidentally reopened the prison, releasing Nex. Their leader, the one who convinced them to side with him and perform the ritual, revealed himself to be Sliske, a loyal Zarosian Mahjarrat.
Due to the length of her enchanted sleep, Nex was not at full strength. Despite this, she quickly laid waste to vast quantities of combatants from all opposing sides. Rapidly gaining power from her participation in battle, she would soon be at full strength once again. Brought together by a common and powerful enemy, all four sides participating in the battle for the godsword united in battle against Nex. After the intense struggle, Nex and her army were ultimately trapped again, behind the frozen door.
When the God Wars Dungeon became accessible again in modern times, adventurers who entered seeking the godsword had ventured inside the gods' chambers and found pieces of the key to the sealed prison. With the frozen key completed, Nex could be engaged in combat once again.
The Death of Guthix
Edit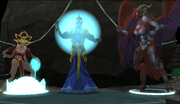 Nex is amongst the characters who visit Guthix's lair after the player discovers it during The World Wakes. To bolster the ranks of the Zarosian faction, Sliske had once again freed Nex from her prison so that she could join the battle. Nex and the other Zarosians effortlessly cleared the path on their way and in the end, managed to corral the Guthixians, Commander Zilyana, and the player. Nex expresses no objection to killing Guthix. [1]; however, she is not decided on what her role is in this ambush.[2].Sliske passed while no one was paying attention, destroyed the wall that was blocking Guthix's chamber, reached Guthix and launched a deadly attack which killed him. Before Nex could celebrate Sliske's achievement and her freedom, Saradomin returned to Gielinor, arriving at Guthix's chamber. He imprisoned her once more and teleported all the Zarosians away. Nex still resides in her prison to this day.
Return of Zaros
Edit

When Zaros returned to Gielinor with a new corporeal form, he called upon his most loyal followers to work on specific tasks, with Azzanadra, Char, and Nex being amongst the group. Zaros tasked Nex with keeping the young gods in check, keeping Sliske's game in order, and containing their destruction with as little open conflict as possible. She was also advised to continue to attack the other god's forces without her ancient prison.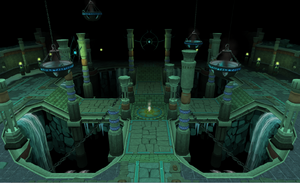 Nex resides in the Ancient Prison, a room locked behind the Frozen Door in the southern part of the dungeon. The door can only be opened by completing the frozen key, which is created by killing foot soldiers of each of the gods (Armadyl, Bandos, Saradomin and Zamorak). Each faction has its own piece of the key to be dropped. Key pieces are only dropped by combatants in the god's stronghold and outside the boss room; i.e. regular monsters not in the main area of the dungeon. As such, obtaining every part of the key requires at least level 70 Ranged, Strength, Agility and Constitution (none of these skills may be boosted). When assembled, the parts make a frozen key with ten charges to open the frozen door. The key can be repaired for a cost which decreases based on your Smithing level.
Just beyond the door is an isolated room with no enemies in it and stairs leading down to the ancient prison. Down these stairs is another safe room that contains a hole in the wall connecting it to the room that contains Nex's army. The area after this room is filled with Nex's soldiers, ancient warriors, ancient mages, ancient rangers, and blood reavers. This room is dangerous, and the monsters are aggressive. In the back of the room is the door to the second-to-last room to reach Nex. Opening this door requires either killing 40 of Zaros' followers or having equipped a full set of Ancient ceremonial robes. Having the Shard of Zaros is the only possible way to walk through the Zarosian army without being attacked by them.
The last room before Nex is another safe room. There are no monsters in here. The only entity in this room is Ashuelot Reis, who can provide banking services to the player. In this room is a magical barrier that seals Nex in her room. It can be removed to enter her room, but cannot be used to exit. The only way out of Nex's chamber is teleportation or death. Nex is not always present in her room; rather, she only appears when challengers have entered her room to face her.
Personality and relationships
Edit
Nex is known to be malevolent and aggressive towards anyone who is not on her or Zaros' side. She holds a belief that a victory is not achievable without strategy and knowledge of the enemy.[3] Additionally, she respects a worthy opponent and treats them chivalrously.[4] Nex acknowledges - and does not deny - rumours that describe her as being of pure anger and hatred.[5] She speaks in a fashion commonly associated with hissing and snakes, extending her "s" sounds in almost every word.
She seems partial to all Zarosians, naming only Zarosian Mahjarrat when speaking of Guthix's awakening,[6] and expresses a specific fondness for Sliske, noting him as a friend initially[7] but later regretting her decision of trusting him.[8]
Nex acts aggressively towards both Commander Zilyana, whom she threatens with mutilation,[9] and the player, whom she berates Azzanadra for not killing.[10]
Strategies
Edit
Nex will occasionally say various lines which are voiced.

At last!
(
link
)
Nex's introduction.

All those who oppose us will perish
(
link
)
At the Frozen Door

Mortals, only death awaits you here
(
link
)
At the Frozen Door

Face me and know despair
(
link
)
At the Frozen Door

There is...NO ESCAPE!
(
link
)
In Nex's lair.

Let the virus flow through you
(
link
)
In Nex's lair

Darken my shadow!
(
link
)
In Nex's lair

Fear the shadow.
(
link
)
In Nex's lair

Umbra, don't fail me!
(
link
)
In Nex's lair

I demand a blood sacrifice!
(
link
)
In Nex's lair
Initial phase
AT LAST!
Fumus! Umbra! Cruor! Glacies!
Smoke phase
Fill my soul with smoke!
Let the virus flow through you!
There is...NO ESCAPE!
Fumus, don't fail me!
Shadow phase
Darken my shadow!
Fear the shadow!
Embrace darkness!
Umbra, don't fail me!
Blood phase
Flood my lungs with blood!
A siphon will solve this!
I demand a blood sacrifice!
Cruor, don't fail me!
Ice phase
Infuse me with the power of ice!
Contain this!
Die now, in a prison of ice!
Glacies, don't fail me now!
Final phase
NOW, THE POWER OF ZAROS!
Taste my wrath!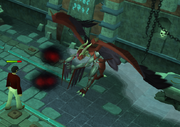 Nex's drop mechanics differ from those of other bosses while LootShare is in effect. Rather than simply dropping all of a high-quantity item to a single player, the drops are divided into 1 — 5 parts, depending on what the drop can be divided into perfectly. For example, rather than one player receiving 375 onyx bolts(e), the drop will be split up into five sections of 75 bolts and then distributed out through LootShare. However, it is still possible for one player to receive all five 75 bolt drops, depending on his or her potential to receive loot.
100% drop
Edit
|   | Item | Quantity | Rarity | GE market price |
| --- | --- | --- | --- | --- |
| | Big bones | 1 | | 646 |
Represents 90% confidence range, based on a sample of 817 kills.
20 charms are dropped at a time.

|   | Item | Quantity | Rarity | GE market price |
| --- | --- | --- | --- | --- |
| | Torva full helm | 1 | [d 1] | 16,265,008 |
| | Torva platebody | 1 | [d 1] | 34,077,033 |
| | Torva platelegs | 1 | [d 1] | 29,888,097 |
| | Torva boots | 1 | | 16,221,008 |
| | Torva gloves | 1 | | 11,965,352 |
| | Pernix cowl | 1 | [d 1] | 11,387,322 |
| | Pernix body | 1 | [d 1] | 23,773,334 |
| | Pernix chaps | 1 | [d 1] | 22,846,651 |
| | Pernix boots | 1 | | 11,890,090 |
| | Pernix gloves | 1 | | 10,312,647 |
| | Virtus mask | 1 | [d 1] | 6,483,874 |
| | Virtus robe top | 1 | [d 1] | 13,499,881 |
| | Virtus robe legs | 1 | [d 1] | 15,522,034 |
| | Virtus boots | 1 | | 8,691,344 |
| | Virtus gloves | 1 | | 6,157,480 |
Herbs and seeds
Edit
Materials
Edit
One potion is dropped in a group of 10. The other potion will always be dropped in a group of 30.
 
Item
Quantity
Rarity
GE market price
Saradomin brew (4)
(always with super restores)
10, 30
Common
15,680–47,040
Super restore (4)
(always with saradomin brews)
10, 30
Common
55,030–165,090
|   | Item | Quantity | Rarity | GE market price |
| --- | --- | --- | --- | --- |
| | Nex's followers | 1 | [d 2] | Not sold |
| | Clue scroll (hard) | 1 | | Not sold |
| | Clue scroll (elite) | 1 | | Not sold |
| | Blood rune | 5,000 | | 1,990,000 |
| | Death rune | 5,000 | | 1,315,000 |
| | Starved ancient effigy | 1 | | Not sold |
| | Court summons | 1 | | Not sold |