A Newspaper is an item that tells about the different going-ons in and around Varrock at that time.
Players can purchase an issue of the Varrock Herald for 50 coins from Benny in Varrock Square. In truth, the newspaper is almost useless, it is not updated but Benny still sells them. The main reason why people buy them is to complete one of the easy Varrock Tasks. However, after this has been done, there is absolutely no point to the item and can be dropped.
Following the 2007 Hallowe'en event Update, the paper now makes reference to the visit of the Grim Reaper to Varrock, which is mentioned in Death's Journal during the 2007 Halloween event.
Another edition of the newspaper is seen briefly when completing As a First Resort..., as it contains a report about the opening of the spa in Oo'glog.
Issue 3 Transcript
Edit
Queen comes to Varrock!
Edit
The Queen is visiting Varrock as part of her royal tour to celebrate her Diamond Jubilee! Citizens from far and wide have flocked to the celebrations, as well as dignitaries from other areas of Gielinor. We caught up with Fremennik representative Thok, who remarked, 'Thok smash puny reporter'.
In other news
Edit
Cleaners out of work! 'It's like everyone has just abandoned us' claims one Varrock street sweeper.
Goblin family celebrates new addition to family. Popped into existence 2 runedays ago.
Classifields
Edit
Visit Draynor today, that perfect, gloomy holiday atmosphere!
Balthazar's Big Top Bonanza! In town sometimes!
Issue 1 Transcript
Edit
Varrock gets Makeover
Edit
The city of Varrock is the latest recipient of a complete makeover. When interviewed, King Roald said, 'In order to keep visitors coming to see the sights of our beautiful capital, we felt that tidying-up the city would be more effective than just issuing a decree - make sure you visit the new museum while you are here.'
Obituaries
Edit
Goblin-Died
Giant Rat-Died
Unicorn-Died
Varrock Guard-Died
Varrock Guard-Died
Varrock Guard-Died
Bear-Died
Classifieds
Edit
Lowe's Archery Emporium for the finest ranging weapons in town!
Time to party! Visit the Fancy Dress Shop for all your party outfits.
The Dancing Donkey - cold beer always in stock.
Initial prices in trade
Edit
When the newspaper was first released, many people did not know about it, and people were selling it for what many players considered ridiculous prices, up to 500k. This was several months before the trade limit was imposed, and the trade window started giving information about item prices.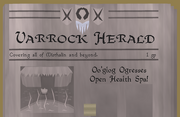 Criticism
Edit
It has been stated by many players that the Varrock Herald is an unnecessary addition to RuneScape. It has been suggested by some players that it should be removed, edited, player-written or that another issue be made. Jagex has recently suggested that they plan to update the Herald, although exactly how remains unknown.[1]
References
Edit