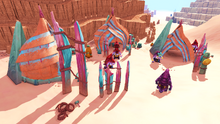 Nardah goebie camp is a small camp found south of Nardah, led by Acca Gielinor. Four Goebie refugees from Mazcab can be found there. Tunks can also be found there wearing Morwenna's headdress after completion of Call of the Ancestors. The camp consists of three tents and a fence.
They have established trade relations with the neighboring goat herd. They believe the goats are the local rulers.
Ad blocker interference detected!
Wikia is a free-to-use site that makes money from advertising. We have a modified experience for viewers using ad blockers

Wikia is not accessible if you've made further modifications. Remove the custom ad blocker rule(s) and the page will load as expected.