Mysterious shade
Release
12 April 2010 (Update)
Members
No
Examine
The vengeful spirit of one who died within Daemonheim.
Combat info
Level
LP
XP
XP
1
100
37.3
12.3
Equipment XP (2H/MH & Armour/OH)
2 / 1 / 0
Aggressive
Poisonous
Offensive
Max hit
0
10
10
0
Style
Speed

4 ticks (2.4s)

Combat levels
Defensive
Armour
Weakness
110
1
Affinities
90
65
50
30
Immunities
? (edit)
? (edit)
[FAQ] • [doc]
The Mysterious shade is a monster found in Daemonheim. It was released along with the Dungeoneering skill. It can be encountered in any room and also features in the monolith puzzle.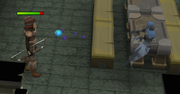 Mysterious shades attack with both magic and ranged. Their magic attack is a blue orb, while the ranged attack is a yellow-greenish orb. Both are very accurate and can deal high damage.
Compared to other monsters, mysterious shades are stronger than their combat level suggests. Their attacks are extremely accurate, and often deal higher damage than other monsters around their level. They should be targeted first unless there are other higher priorities in the room, to reduce the amount of damage they can deal to the team.
Quantities and rarities are random. Dropped food will usually be the second best you can fish and cook and drops in general will become less generous as you progress.
Food
Weapons
Runes
Torn bags
Ores
Branches
Textiles
Herbs
Seeds
Miscellaneous
The Mysterious shades look similar to Echned Zekin, the 'captured' form of the demon Nezikchened, which the player has to fight during the Legend's Quest.
NPCs

Ghosts

| | |
| --- | --- |
| Port Phasmatys | |
| Wilderness | |
| Kharidian Desert | |
| Morytania | |
| The Curse of Zaros | |
| 2014 Hallowe'en event | |
| Others | |

Zombies

| | |
| --- | --- |
| Pirate quest series | |
| Others | |

Skeletons
Other
All floors
Frozen floors
Abandoned floors
Furnished floors
Occult floors
Warped floors
Bovimastyx
Slayer
Puzzle room
Boss room
Ad blocker interference detected!
Wikia is a free-to-use site that makes money from advertising. We have a modified experience for viewers using ad blockers

Wikia is not accessible if you've made further modifications. Remove the custom ad blocker rule(s) and the page will load as expected.