My Arm is a troll farmer at the Troll Stronghold. He is the main focus of My Arm's Big Adventure quest as well as Burntmeat's assistant.
His name "My Arm" derived from when he was just a baby. Trolls are named after the first thing they tried to (or successfully) eat. Since he first tried to eat his dad's arm, his dad decided to name him "My Arm".
My Arm is introduced to the player at the very beginning of the quest. Burntmeat learnt that Goutweed could be grown again as it was previously thought to have been botanically extinct after the Trolls had picked it all for use as a cooking ingredient. Burntmeat discovered that it was possible to regrow the weed when he was interrogating a captured adventurer who he was preparing to boil into a stew, after he learnt about this he cooked him anyway. Burntmeat encourages the player to speak with My Arm to begin to process of regrowing the herb.
My Arm is a keen farmer but unfortunately he has little knowledge of how farming actually works, he has planted several objects on the Troll Strongholds roof including dead goats and crates, however none of these grew. My Arm enthusiastically accompanies the player to Karamja where Goutweed can supposedly be grown as learnt from the late adventurer.
However My Arm is a little too enthusiastic and causes much havoc when the player attempts to cultivate the herb.
After completion of My Arm's Big Adventure, My Arm will watch over a herb patch that a player can use for free. My Arm will ensure that the patch will not become diseased.
In the battle against the Giant Roc, My Arm helps the player in defeating it, even though he only hits 10-30.
My Arm plays a role in the King of the Dwarves quest. He can be found in the tunnel next to the Black Guard Headquarters, along with Big Rock, Pretty Flower and Sparkly Crystal. He gives you a pretty flower to give to the troll named Pretty Flower.
My Arm later appears on Yu'biusk along with Burntmeat during the The Mighty Fall quest. He says that he came to the Kyzaj Tournament in support of the player instead of the troll champion, as he would rather cheer for a friend. My Arm was initially unaware of Bandos' death, and only finds out when Burntmeat mentions it.
After My Arm's Big Adventure, My Arm grows a herb called 'Hardy goutweed' (as can be seen by right clicking the herb). This is presumably the same as 'Goutweed', although the player is not allowed to pick it. If the player does attempt to pick it when it is full grown, the player will say 'That's My Arm's problem now'. My Arm will also pick the hardy goutweed after a short pause and start growing a new one.
When using goutweed on My Arm, he will say "Stop it - you make My Arm hungry".
While you are doing My Arm's Big Adventure quest after the cut scene in Tai Bwo Wannai (when you get the hardy gout tuber), you say "If you ever come to <house location>, I'm not letting you into my house."
Logically, My Arm has at least Level 30 Farming, as you require 29 Farming to grow Goutweed and he gains a Farming level during the quest.
When My Arm is planting the seeds and harvesting his Goutweed, his examine text changes to "He's poking his farming patch with my dibber." Also, when he is raking the patch, his examine text is "My rake is in the hand of My Arm."
In the beginning of the quest My Arm's Big Adventure, when joking about My Arm's name, he tells you about how he sees players with numbers and weird names. This is claimed a joke by Jagex considering how many players have numbers in their usernames.
My Arm tried farming before the quest; he tried "growing" a trolley, a crate, rocks, a tree branch, some fish, and a goat.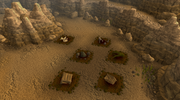 Whenever My Arm's goutweed herb is "All grown up", theres a graphics glitch in which his neck sticks out a distance from his body.
Once you return from Ardougne, My Arm says "Dolce domus" and claims that "It means home, sweet home in some old language". This language is actually Latin, which he knows because he is an "ed-yu-cat-ed troll".